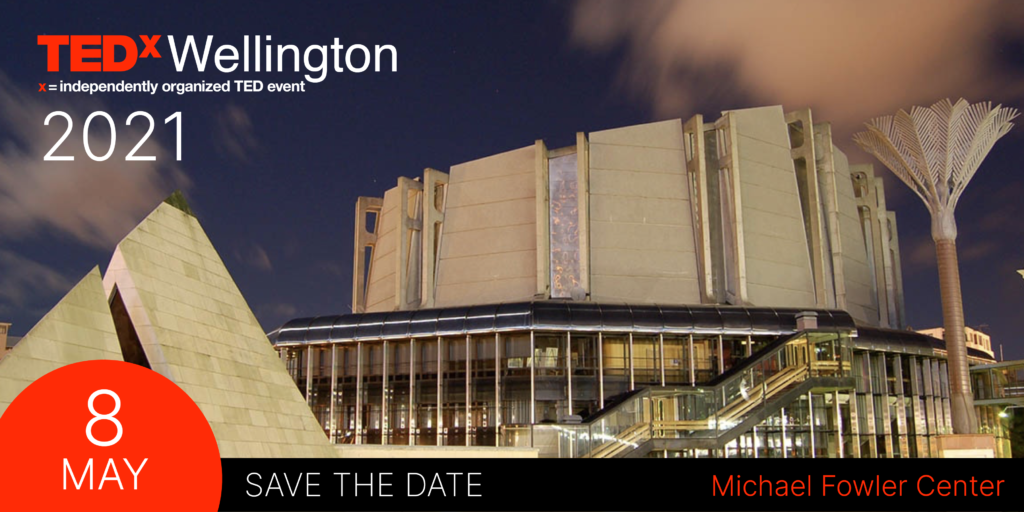 Mark your calendars for May 8, 2021!
The TEDxWellington team is excited to announce the TEDxWellington 2021 main event to take place on May 8, 2021 at the mothership of Wellington venues, the Michael Fowler Centre.
This will be the largest TEDx event ever in Aotearoa's capital and will build off previous years' successes (where tickets sell out in as little a few minutes!). You will not want to miss out on one of this unique Wellington experience, where there will be opportunities to:
Connect with 2000 other attendees
Witness speakers and performers which showcases the best talent from the region
Partake in engaging interactions and conversations which will resonate beyond the day
Once again, a massive shout-out to Wellington City Council for their generous support as part of the Covid-19 Tipu Toa: Build Back Better / City Recovery Fund which enables us to access the award-winning Michael Fowler Centre.
Interested in speaking, or know someone with Ideas worth spreading?
We will be opening applications / nominations for speakers and performers for the 2021 main event in the coming months. So hold on to your hats for now. This will be a great opportunity to voice and display the unique ideas and talents you have, from Wellington to the world. Please sign up to the email newsletters via the bottom of this page for this and other event announcements.
Sponsor TEDxWellington 2021
We are hard at work putting together the biggest comeback TEDx event Wellington has ever seen. We are still on the lookout for cash sponsorship at a similar level to the council funding, so if you are interested in supporting, please get in touch.
TEDxWellingtonSalon#12
We initially planned on announcing the 2021 event date and venue during the TEDxWellingtonSalon #12 event, which made it a tough call to postpone, however, we see this as the only responsible action, considering the NZ government's advice on COVID-19 Level-2 restrictions; limiting event capacity to a maximum of 100 guests.
Certainly, this year has been full of more uncertainties more than we bargained for. That said, we at TEDxWellington are driven by the value of connecting people with ideas worth spreading and we're confident in the 'team of 5 million' to again eliminate COVID19 from our shores.*
TEDxWellington 2021 is going to be EPIC!
*Obviously, all of the above will only be hosted under NZ Governments Alert Level 1 Guidance.
Need inspiration?
Who doesn't love a good TED talk? Stimulate your brain cells with ideas from around the globe and get immersed in some quality content at TED.com or savor some of the past TEDxWellington talks.