Reflecting on the 2019 NZ capital TEDx event.
On Sunday, August 11, 2019, we held the fourth TEDxWellington event at a new, creative location right in the heart of capital, Te Auaha.
As the video above illustrates, the focus was building on our past success of crafting a unique delegate experience around the framework of TEDx talks from local Wellington-based talent.
THEME
Every year we choose a theme which will challenge us creatively and provide an opportunity to stretch our imaginations. The theme was also a reflection of the prospect of doing an event a fifth the size of the previous one in 2017 and after taking a break for a year.
Thanks to our media partner Make It Obvious for the above theme launching video (plus subsequent social channels collateral, speaker video intros and photography).
REGISTRATIONS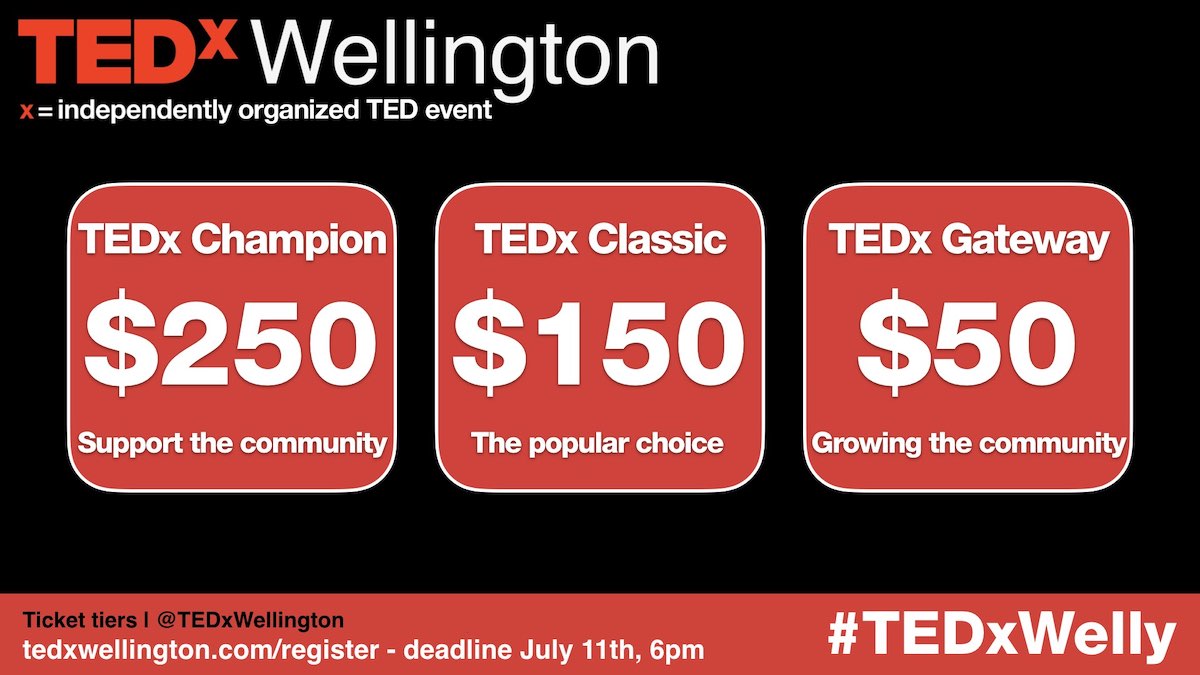 Every previous non-profit TEDxWellington event has sold out and we've had many folks comment they missed out on a spot so this year we gave everyone had an equal chance to get a ticket by developing a lottery registration system. We did this by inviting our community to apply for a single ticket over a three week window (which gave everyone an equal shot when the random algorithm was run to choose successful parties – check out the 2019 Ticketing FAQ).
There were over 600 registrants and we definitely learnt that Wellingtonians are a busy bunch, and not everyone checks their emails! But here at TEDxWellington we always have a plan B (and C) – so we put the unclaimed tickets back on sale for a "second chance" opportunity, which made it another sold out event.
INTERACTIONS
The interaction team jumped at the idea of using the "chance" team throughout the whole experience.
Upon arrival, delegates were randomly given one of four coloured wristbands (instead of cumbersome lanyards). As the start of the video above illustrates, delegates were then directed to follow similar coloured balloons into the theatre to arrive in four main entrances. We balanced out the random seating arrangements, with some priming content playing on the screen along with some unique 'paper fortune' games to prompt discussion.
During the two breaks there were other 'chance' activities to both connect and reflect:
treasure hunts: with the first clue being handed out by our MC's, this interaction provided an opportunity to gamify building connections between delegates. There were five clues that enabled the team participating to journey through the space, experiencing 'chance' encounters with TEDxWellington team members and the installations around the venue;
photobooth: creating digital takeaways to share through social channels;
head / neck / shoulders massage: because sometimes you need help in getting those ideas into your brain plus to shake off the emotions a little from the challenging talks of the previous session;
speaker stations: allocated spots for delegates to both find and connect with the speakers to dive deeper into their shared idea;
toilet interactions (yes that's right): on the back of the cubicle doors we had a matrix of the speakers with an opportunity to mark how the talk made them feel.
The final interaction to close the event was a silent disco, again utilising the colours related to the wristbands so that participants were grooving to tunes by 'chance':
SPEAKERS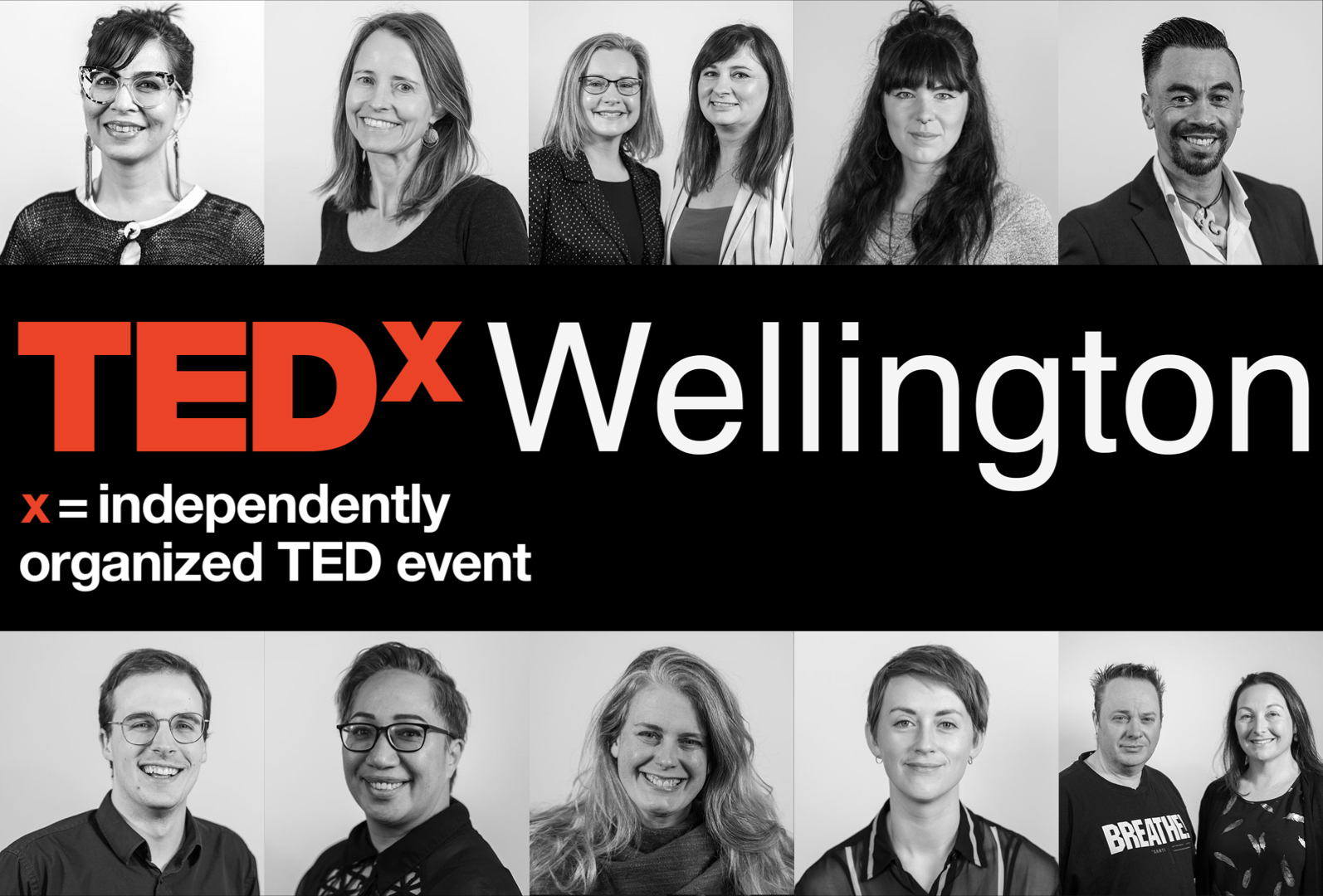 Our impressive line-up of all-Wellington speakers were a result of distilling over 140 applicants and then over twenty interviews. After being chosen the 12 speakers (ten talks featuring two pairs) participated in a five week coaching course along with 1-2-1s sessions plus a full dress rehearsal the day before the event. The 2019 speakers were (final videos of talks currently being edited):
Anne-Marie Brook, Co-founder,
Human Rights Measurement Initiative (HRMI)

Anne-Marie is a former OECD economist with a passion for helping to bring about systemic change. She believes that having good metrics for tracking the human rights performance of countries is a prerequisite for the collective action that is needed to transform our world for the better. She is co-founder and development lead for the Human Rights Measurement Initiative (HRMI), based at Motu Research, a not-for-profit research institute based in Wellington. Anne-Marie is an Edmund Hillary Fellow, and has degrees in Psychology and Economics from the University of Otago and a Masters of Public Affairs from Princeton University.
Ged Finch, PhD Candidate,
Victoria University of Wellington

Ged is a PhD Candidate at Victoria University of Wellington in the School of Architecture exploring how a circular economy model can fundamentally disrupt the way we build in New Zealand. Prior to undertaking this research Ged worked in two architectural firms in Malaysia, was involved in statistical damage analysis of residential dwellings in the 2011 Christchurch earthquake and taught in the fields of Built Environmental Science, Construction, Architectural Design Communication and Critical Theory.
Hīria Te Rangi, Kaiwhakahaere,
Whare hauora

Hīria (Ngāti Porou, Tūwharetoa) is Kaiwhakahaere (CEO) of Whare Hauora. Hīria grew up by the Whanganui River about as far away from her 20 year tech background as you can get. There she learnt the importance of whānau and community and the support you need in order to be that weirdo kid and not change. She attributes her early life and her grandparents as the reason why she is able to do what she does today.
Jase Te Patu, Creator,
M3 – Mindfulness for children

Jase Te Patu (Ngāti Apa, Ngāti Ruanui and Ngāti Tūwharetoa) has been sharing Hauora for 27 years. He is co-owner of Awhi Yoga and Wellbeing, a teacher trainer, facilitator, keynote speaker and also creator of M3 – Mindfulness for children. Jase was the winner of the NZ Exercise Industry Awards – Mind/Body Teacher in 2018. He is an Ambassador for Youthline and was also the recipient of the NZ Lifekeeper's Award for Suicide Prevention and the Regional Local Hero – New Zealander of the Year 2018. Jase is also receiving the Absolutely Positively Wellington Award 2019 from Mayor Justin Lester in June.
Kim Murray, Co-Founder,
WELLfed NZ Trust

Kim, together with Rebecca, founded WELLfed in 2016 to empower parents with skills to feed their families well. Kim naturally connects with people and is passionate about helping families acquire the skills and resources to make meaningful changes in their and their family's lives. Previously with Telecom and Chorus, Kim has an extensive background in banking and the financial sector, and has both volunteer and leadership experience with a wide range of charities including Bellyful and Mary Potter Hospice.
Rebecca Morahan, Co-Founder,
WELLfed NZ Trust

Rebecca has 20+ years corporate experience in financial services' across Information Technology, business process, project management, senior management and consultancy – in New Zealand and overseas. Rebecca is passionate about governance – currently holding multiple Board positions in the Nikau Foundation, Bellyful New Zealand and WELLfed New Zealand (which she co-founded). As a long-time volunteer and manager of volunteers, Rebecca has a passion for not-for-profit success through slick operations, strong governance and building effective community connections. Rebecca lives in Porirua with her husband, David, and two children and is particularly motivated by health/nutrition, wellness, inequality and women's/children's issues.
Mandi Lynn,
Every Body is a Treasure Charitable Trust

Mandi Lynn is a former U.S. Nurse Corps Naval Officer who immigrated to New Zealand 18 years ago. She was a closeted creative who took the leap of faith to become a full time artist. Now a Master Photographer and winner of New Zealand's Creative Photographer of the Year 2017. She is a documentary film director and founder of Every Body is a Treasure Charitable Trust. Last year she developed an award winning youth arts based holistic wellness program called the HeArtivists. The goal of the HeArtivists is to mentor the next generation of powerful and compassionate change makers.
Dr. Monica Saini,
Breast radiologist & CMO Volpara Solutions

Monica Saini is a internationally recognized breast imaging expert and lecturer. Her focus is breast density and its global impact on breast cancer. Monica's education includes nursing and medical degrees, and she is a fellowship trained breast radiologist. For 9 years she worked in a U.S. private practice and served as medical director of GE Healthcare ABUS division. In 2017, Monica and her family took a life pivot to New Zealand. Monica now evaluates patients in Wellington and empowers Volpara as their Chief Medical Officer and Board Director. Monica's passion is using medical transparency to educate women on their breast health so we might diminish their fear and inspire their curiosity.
Olie Body, Founder / Managing Director,
Wā Collective

Through giving people the tools to manage menstruation sustainably, Olie's at the forefront of leading a paradigm shift: shaping what it means to inhabit this earth consciously, and with a pair of ovaries. The interplay of sustainability, empowerment and menstruation was first realised to her when she moved to India, working with locals to distribute reusable menstrual cloth kits. Upon her return to Aotearoa, she started to question our attitudes and insular thinking around managing menstruation. Olie founded the social enterprise Wā Collective to connect people with their own bodies and to papatūānuku, using humour, heart and inclusivity.
Rob Wilson,
Ghost Fishing NZ

Rob is the president and founder of Ghost Fishing New Zealand. He has a passion for marine conservation and the marine environment and has been involved in underwater clean ups for over 10 years. Rob is a photographer and has a keen eye for underwater and astro landscapes, using this passion to document the ocean.
Dr. Serena Cox,
Ghost Fishing NZ

Serena is a Marine Biosecurity Scientist, with a passion for everything in and under the water. Serena had a love for the ocean as a child and was lucky enough to turn it into an extremely rewarding career which utilises her occupational and technical diving background. Technical diving is her main hobby and most weekends she can be found diving around the Wellington coastline. Serena joined Ghost Fishing in 2016 and is currently the Vice President and Dive Team Leader. Preserving the oceans for future generations is Serena's primary goal for Ghost Fishing.
Tania Sawicki Mead, Director,
JustSpeak

Tania is the Director of JustSpeak, a youth led movement for transformative change in the criminal justice system in Aotearoa New Zealand. JustSpeak develops tools, resources and spaces to facilitate a conversation on criminal justice informed by evidence and lived experience. Tania was born in Te Whanganui-a-Tara and has worked in international human rights policy in Government, with former refugees in the community sector, and on migration, justice and social policy at Parliament. She earned a Masters in Political Science from the University of British Columbia and a BA Hons from Victoria University of Wellington.
COLLABORATORS
Our volunteer leadership partners who provide pro-bono time, support and energy to make this happen:
| | | | | |
| --- | --- | --- | --- | --- |
| Our celebration partners: | | Our technical partner: | | Our media production partners: |
| | | | | |
| --- | --- | --- | --- | --- |
| Our speaker coaching venue partner: | | Our MC partner: | | |
Our interaction partners:
As a non-profit endeavour every TEDxWellington event wouldn't be possible with the amazing mix of organisations and companies donating their products, time, expertise and support.
MAYOR CELEBRATION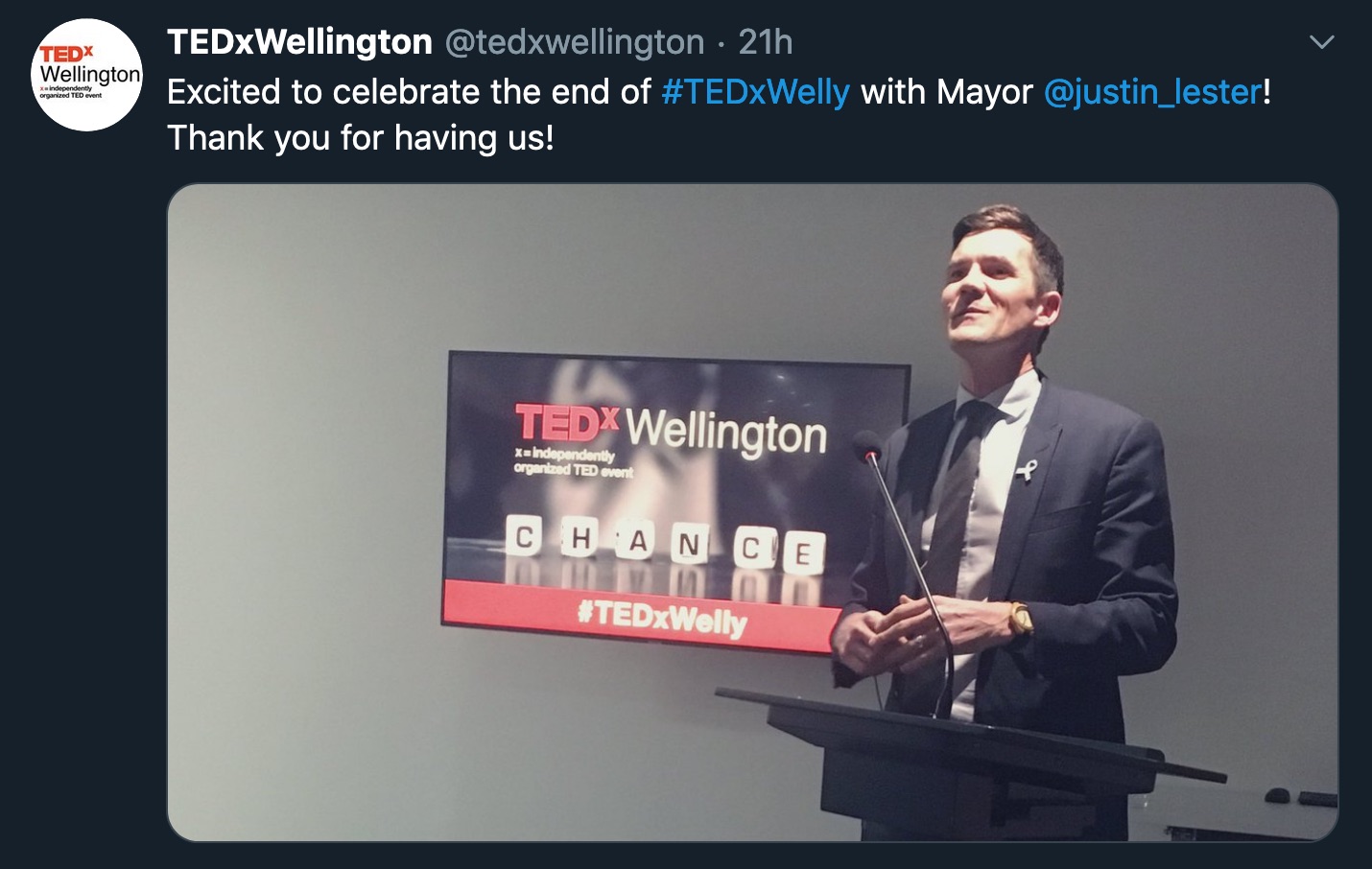 A couple of days after the event, Wellington City Council Mayor, Justin Lester hosted a celebration event for speakers, volunteers, collaborators, wider team to recognise the volunteer contribution to the city.
2019 LEADERSHIP TEAM
DK

Licensee / Creative Producer

Yes, just a D and a K. Creative Producer & Speaker Coach. Love ‽'s.

Erica Brooks

Speaker / Performer Curator

Erica is an experienced conference curator + event manager, with a background in the arts, film, media and marketing. Currently a Film + Media Analyst for The Office of Film & Lit Classification.

Alex Matthews

Community Lead

Alex is a digital producer and entrepreneur, having had an active life in business since a young age and founding Xequals, a cutting-edge web and graphic design company in 2011.

Lucy Shand

Sponsorship & Livestream Director

Lucy wears many hats. Project Manager, Opera Singer, Creative Producer, Political Advisor, Environmentalist, Heartist, Social Butterfly. At the heart of everything Lucy does / is: people and purpose.
Helen Kirlew Smith

Trustee

Helen has been producing and managing public art initiatives and interactive events in Wellington over the last 6 years. Sharing stories, connecting people and inspiring people to be the best they can be is at the heart of all that she does.

Hannah Wignall

Operations / Trustee

Contractor in both the creative and health sector. The human element of events excited me the most. I play football and ride bikes for some endorphins. Talk to me about: empathy.

Gareth Parry

Speaker Coach

Gareth is a partner in PwC's Experience Consulting practice, specialising in helping create the right conditions for diverse groups of people to collaborate, participatory design, and live-scribing.

Emily Dwyer

Interactions

Emily truly thrives when creating experiences that immerse, surprise and delight people, whilst fostering meaningful interactions. Emily has over a decade of events experience, including event design & production across a variety of sectors.
Alessandra Orsi

Communications Director

Alessandra is a marketing professional with a background in the arts and creative sector. When she's not working at Creative HQ, you can find her roaming around town with her camera or dreaming up her next craft project.
The above are the good humans all working for free to put on this years event.
We were also joined by about fifteen other volunteers on the day to make the event the success it was: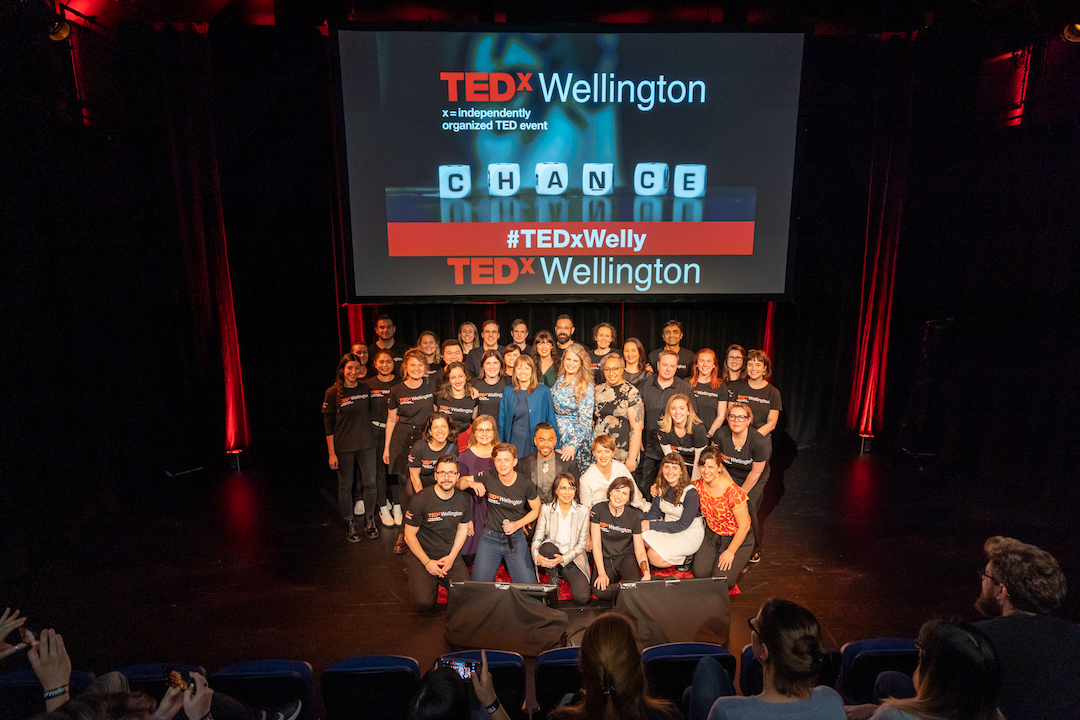 WHAT'S NEXT?
Our focus now is editing down and getting the talks up on YouTube to be approved by TED. More community Salons will follow throughout the year to keep the community engaged and after a rest, we'll get busy planning TEDxWellington 2020.