Crafting a unique capital city TEDx experience.
Imagine announcing the details of a TEDx event with just the date and theme, then putting the tickets on sale keeping secret the speakers / performers plus details of where the event is being held.
TEDxWellington was held on Saturday 5th March 2016, and our theme this year was trust.
We had the privilege of being invited to a very special venue and decided to surprise our attendees by not announcing this location along with no information on speakers / performers or any details of the day as well.
Here's what happened…
SELLING OUT
Tickets for TEDxWellington went on sale a month before the event and sold out in two minutes.
That's right, two minutes.
We were so amazed by the response we had to get a statement from our ticket provider for clarity:
"Demand for the 2016 event has been huge with this morning's sell-out one of our fastest ever across all event categories. The TEDxWellingon team have a proven record creating unforgettable experiences and no-one wants to miss out."
James McGlinn, Eventfinda CEO
JOURNEY
On the day itself, three red double decker buses transported the excited delegates to the venue. Inside the buses were 'whited out' with quotes from the most popular TED talks to inspire conversation and prime them for what was going to happen:
Upon arrival, as you can see in the documentary above, a tunnel and black out curtains led the delegates straight into the theatre still obscuring them from knowing where they were.
VENUE
Nearly 200 madly curious souls packed into the glorious and exclusive Park Road, the film post production facility in Miramar, Wellington owned by Sir Peter Jackson:
We were one of a very select few public events to be held in the space and totally honoured to be invited. This rare offer was the catalyst for the idea of keeping things a secret and in turn, attempting something which has never been done before with a TEDx event.
SPEAKERS / PERFORMERS
After receiving nearly 180 applications, the chosen speakers / performers underwent a five week coaching programme in the run up to the day. All in secrecy after signing an NDA to agree to not tell anyone.
It's our privilege and honour to finally share the TEDxWellington 2016 speakers / performers below (click to enlarge):
Remember, none of our delegates knew before hand who they were coming to watch and more over, there was no programme to outline who the next speaker was (keeping delegates in a constant open state of trust).
At the end of the day though, delegates were handed a small takeaway with all the speakers bios (click to download PDF 2MB):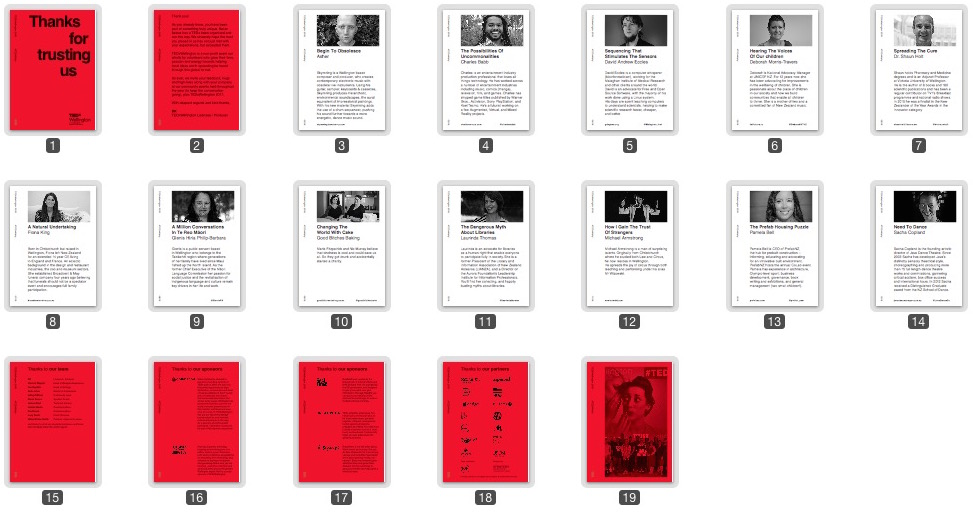 ADDENDUM (6 April 2016)—talks are now live: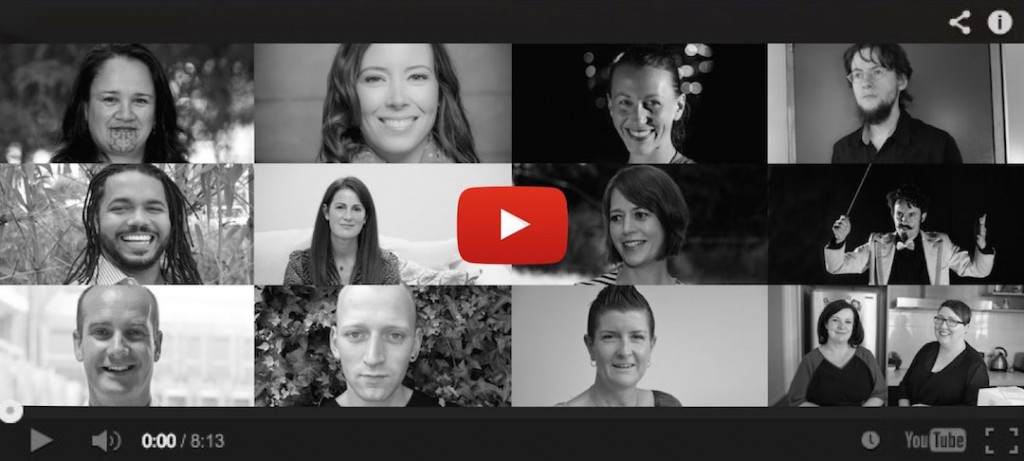 LIVESTREAM VIEWING PARTIES
New this year was our effort to create livestream viewing parties across the wider Wellington region. The following hosts played a wonderful role in ensuring accessibility to the event and it's content for those who weren't lucky enough to get a ticket or didn't have the means: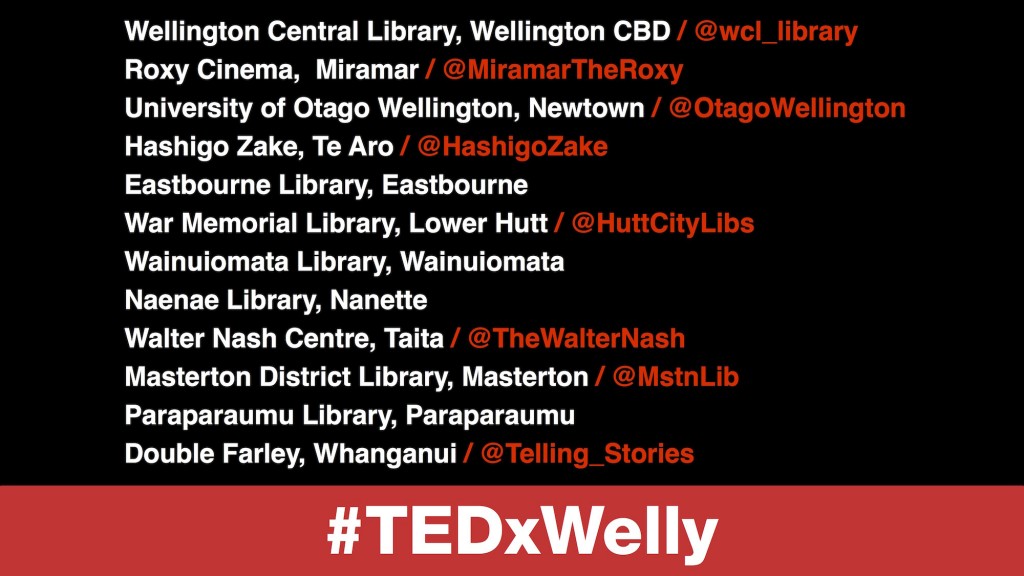 The livestream was accessed over 5,643 times (unique visitors—meaning, one person dropping in several times on the day would be counted as one visitor and a library housing a 150 folks across the course of the day, would also be counted as one). This figure more than doubled our last years efforts.
We also did video interviews at the livestream venues and showed it at the main event to ensure those in the theatre understood they were part of a wider community effort and experience (check out the videos here, here and here):
The embed of the livestream was also featured with our gracious thanks on our media partner stuff.co.nz.
Check out the photos on the livestreams Flickr album.
TEDx's
We were honoured this year to be joined by 10 other TEDx's. Their attendance illustrates further the wonderful wider community our event is part of: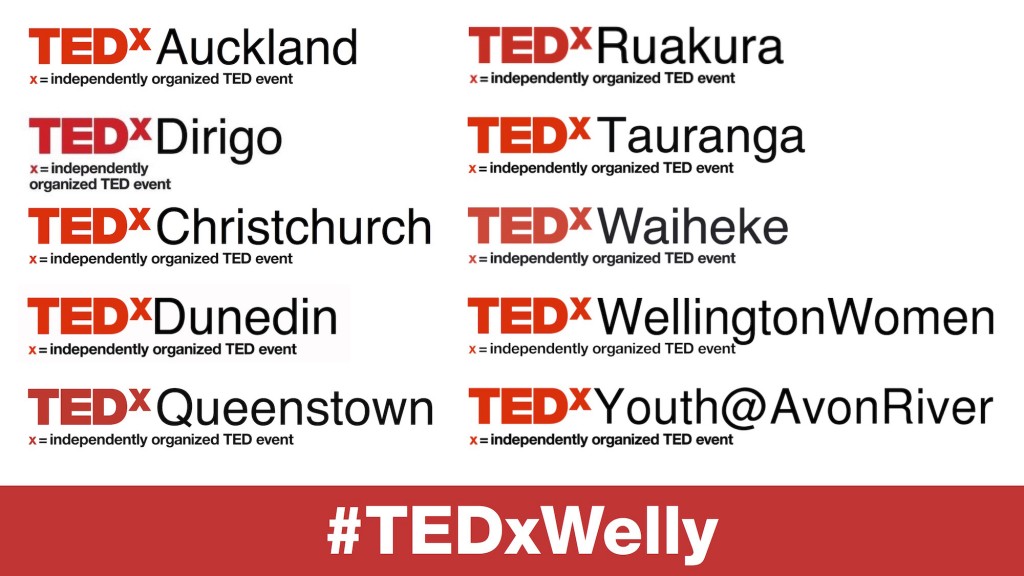 INTERACTIONS
Every break this year we attempted to delight and surprise our delegates. Whether that be the mystery lunch option, the photo / video interactions, the 'mystery door knock' coffee station or even the bunch of kittens we had ready for a cuddle, it was all focussed on complimenting our theme and adding an element of evolving wonder of not knowing what's next:
Delegates were also invited to complete a postcard for the speakers / performers as we appreciate some folks are a little nervous about approaching someone they don't know. We also had colouring-in options for folks who wanted to chill and be creative in the breaks:
SOCIAL MEDIA
Bearing in mind our delegates weren't allowed to take photos in the exclusive location due to the artwork and prestigious awards and artefacts on display, we still were trending all day on Twitter. There were 4,665 tweets using the #TEDxWelly hashtag from 406 contributors. This gave 5.1million potential impressions with a potential reach of 791,300.
Throughout the day we also shared and distributed across Facebook and Twitter content created, specifically to celebrate the wonderful ideas worth sharing in the talks / performances:
Tō pai hoki, @GlenisPB. (That means "you are awesome".) One of many ways to give praise in Te Reo 😉 #TEDxWelly pic.twitter.com/wiZtbv9ayB

— TEDxWellington (@tedxwellington) March 4, 2016
The key to unlocking better housing? @prefab_pam says we can turn raw logs into jobs. #TEDxWelly pic.twitter.com/usI81J2IfG

— TEDxWellington (@tedxwellington) March 4, 2016
When we dance, we make the world a better place. A maxim worth living by from @JavaDanceCo. #TEDxWelly pic.twitter.com/UPnHkdOK9r

— TEDxWellington (@tedxwellington) March 4, 2016
DNA can tell us a lot about the world. Today David demoed how DNA can be sequenced before our very eyes. #TEDxWelly pic.twitter.com/XjKkZWF9wz

— TEDxWellington (@tedxwellington) March 4, 2016
Your meal will be bland without diversity. @charlesbabb says diversity is the spice. #TEDxWelly pic.twitter.com/ufFNjcZftD

— TEDxWellington (@tedxwellington) March 5, 2016
What's your funeral plan? Fiona King told us why taking ownership of your own funeral is so important. #TEDxWelly pic.twitter.com/4NJymLjmKn

— TEDxWellington (@tedxwellington) March 5, 2016
Libraries are not in their final throes. In fact, they are a lifeline for many Kiwis. @laurindathomas #TEDxWelly pic.twitter.com/CD2mgfx16y

— TEDxWellington (@tedxwellington) March 5, 2016
Mike shares his journey to street performing and its unique challenges. #TEDxWelly pic.twitter.com/IKhf0sBdrd

— TEDxWellington (@tedxwellington) March 5, 2016
Honey: It's a miracle product! Thanks for the honeyed words, @drshaunholt. #TEDxWelly pic.twitter.com/95LTJyMeWe

— TEDxWellington (@tedxwellington) March 5, 2016
Asher aka Skymning uses old electronic equipment to make his music. Performing now at #TEDxWelly. pic.twitter.com/gkvQ7kuM34

— TEDxWellington (@tedxwellington) March 5, 2016
148k kids left in the dark in fact. Thanks for shedding light on the issue, @UNICEFNZ's @DeborahMTNZ. #TEDxWelly pic.twitter.com/WNtJNg10j0

— TEDxWellington (@tedxwellington) March 5, 2016
Giving people a moment of sweetness in an otherwise shitty day. Inspiring stuff, @goodbitchesbaking. #TEDxWelly pic.twitter.com/whQ4V1GzCM

— TEDxWellington (@tedxwellington) March 5, 2016
Again, the engagement of our efforts ensured the conversations travelled beyond whilst also connected our speakers / performers to a wider audience.
VOLUNTEERS
With nearly 160 applications, the 30 volunteers who were chosen were amazing. They provided a backbone to the event, from helping out during dress rehearsal, dressing the buses, facilitating at the livestream events, to looking after the delegates and helping with the interactions on the day.
It was wonderful to thank them all on the TEDxWellington stage (along with our speakers and the rest of the core team) at the end of the event:
Check out the photos on the event Flickr album.
SPONSORS AND PARTNERS
And last but not least, TEDxWellington is a non-profit event run wholly by volunteers (no-one in the team makes any money off this), and we rely on the generosity of sponsors and partners.
Uniquely this year, they were also asked to 'trust'. They didn't know where the venue was, what the interactions were going to be, who the speakers / performers were—so a special thank you to those who funded us financially and also supported us in kind:
NEXT YEAR
So, as for 2017, well, if you sign up to the email newsletter via the front of this site, we'll let you know shortly…
ADDENDUM 18.3.16: our little event got covered on the TEDx Innovations blog on ted.com.