Reflecting on the largest ever TEDx event in the capital.
If last years TEDxWellington was about uniqueness, this year it was all about perspectives and scale. It was the largest TEDx ever held in the nations capital with 1,000 wonderfully curious delegates and 15 speakers / performers!
Here are just some reflections / learnings / insights gained:
THEME
The highly creative theme launch video above was crafted and developed in concert with our design partners Strategy Creative Wellington and Fox & Co. As with previous years, we use the theme to set the experiential tone for events interactions and not the talks themselves.
REGISTRATIONS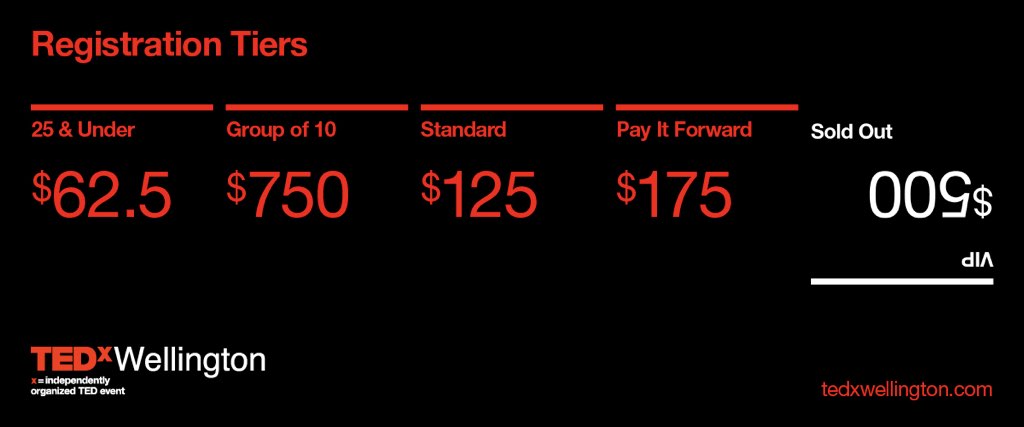 One of this years experimental elements was around the registration categories. We had several categories (see above) which enabled a wide range of accessible attendee options.
We released the VIP options to just our email newsletter subscribers (they sold out in 20mins), then, full registration was opened to the same community an hour before the public sale (as way of rewarding loyalty).
In a few hours we only had 65 places left, all in the 'Pay It Forward' category. It took another week to sell these spots and in doing so, achieving our fifth sold out event.
This is a big learning for next year in terms of ensuring we tell this story better and to leverage the amazing stories and work which the chosen charities do under the 'Pay It Forward' banner.
SPEAKERS / PERFORMERS
Was amazing to have all the talks live 10 days after the event thanks to AV NW Group.
As with previous years, all speakers / performers go through a 5 week coaching course and multiple individual one-to-one sessions. This year, we also gave them a fitting introduction via their visual opening (just click play on any of the talks above to see), adding some theater and polish to proceedings.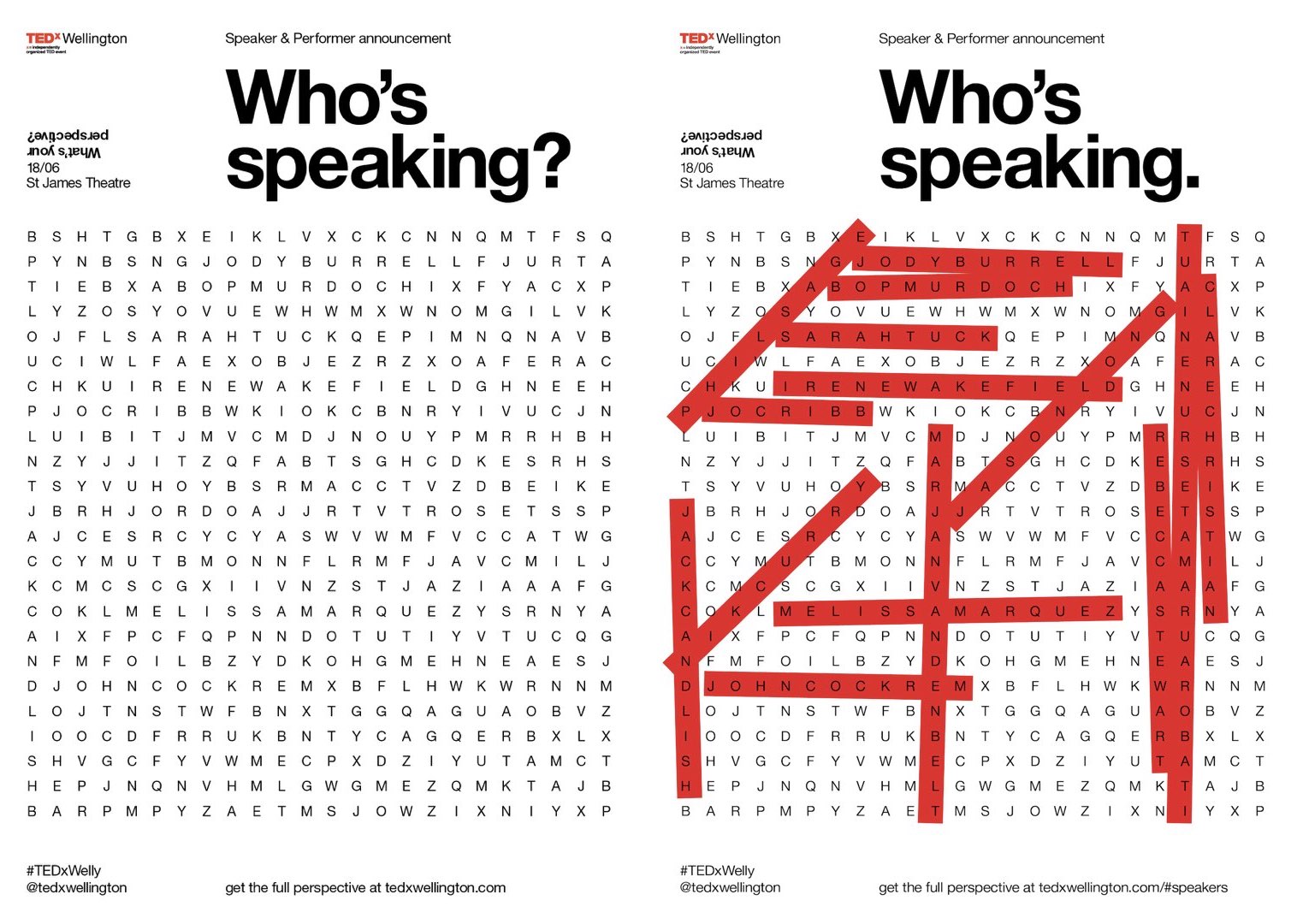 We teased our community (both online and in the Mojo Coffee cafe) with a rather unique word search; asking all to guess who our 2017 speakers were going to be.
Oh and the public application process again this year yielded the majority of the final speakers / performers selection (the below graphic was shared at a previous Salon event).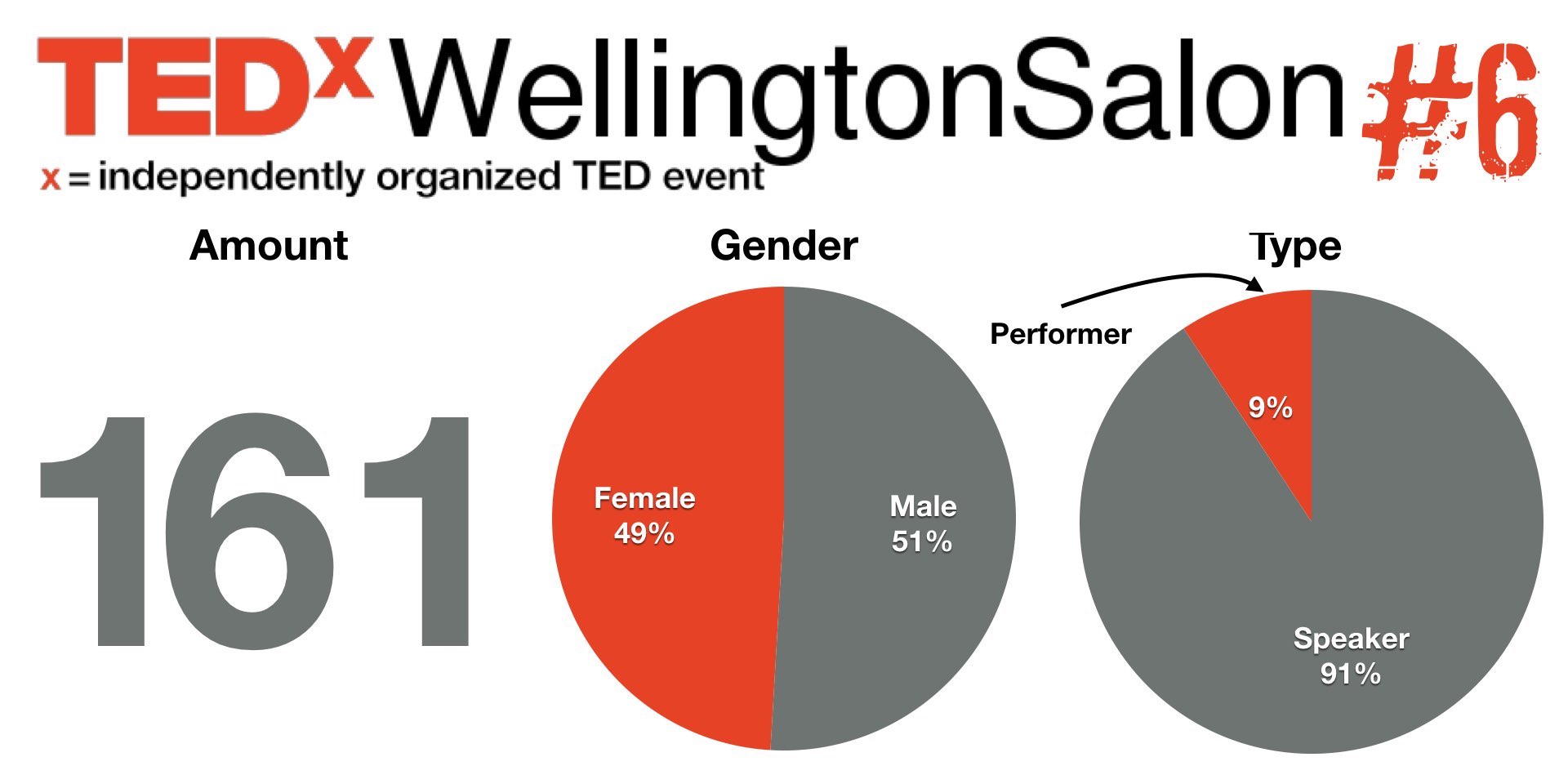 DELEGATES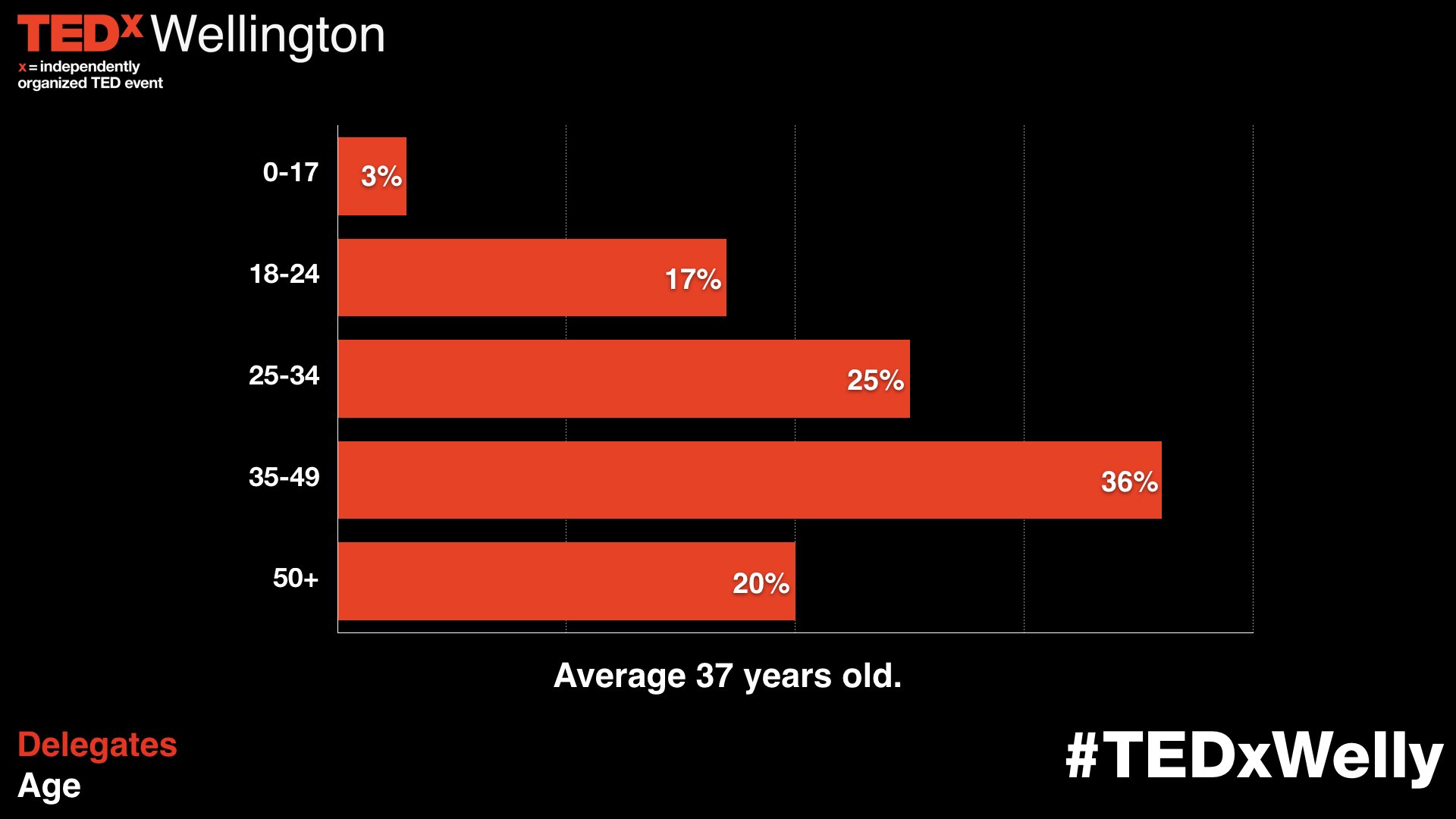 As you can see the average age of a TEDxWellington delegate was 37 and there was an equal gender split. What was interesting is that 25% of attendees were from outside the city: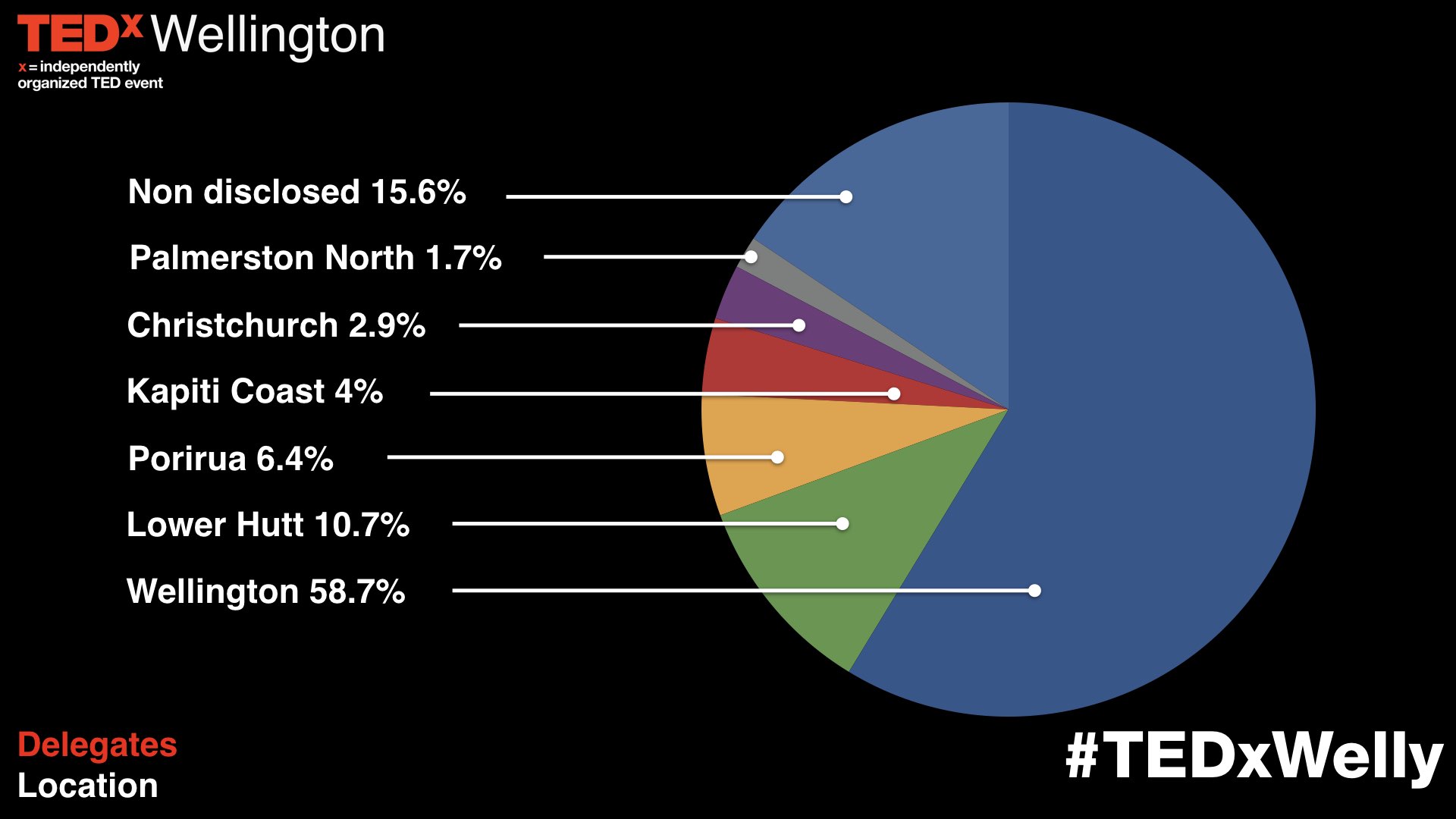 Add to that that 20% were also in senior leadership roles (plus a couple of gurus in the mix), we truly felt the audience was eclectically suited: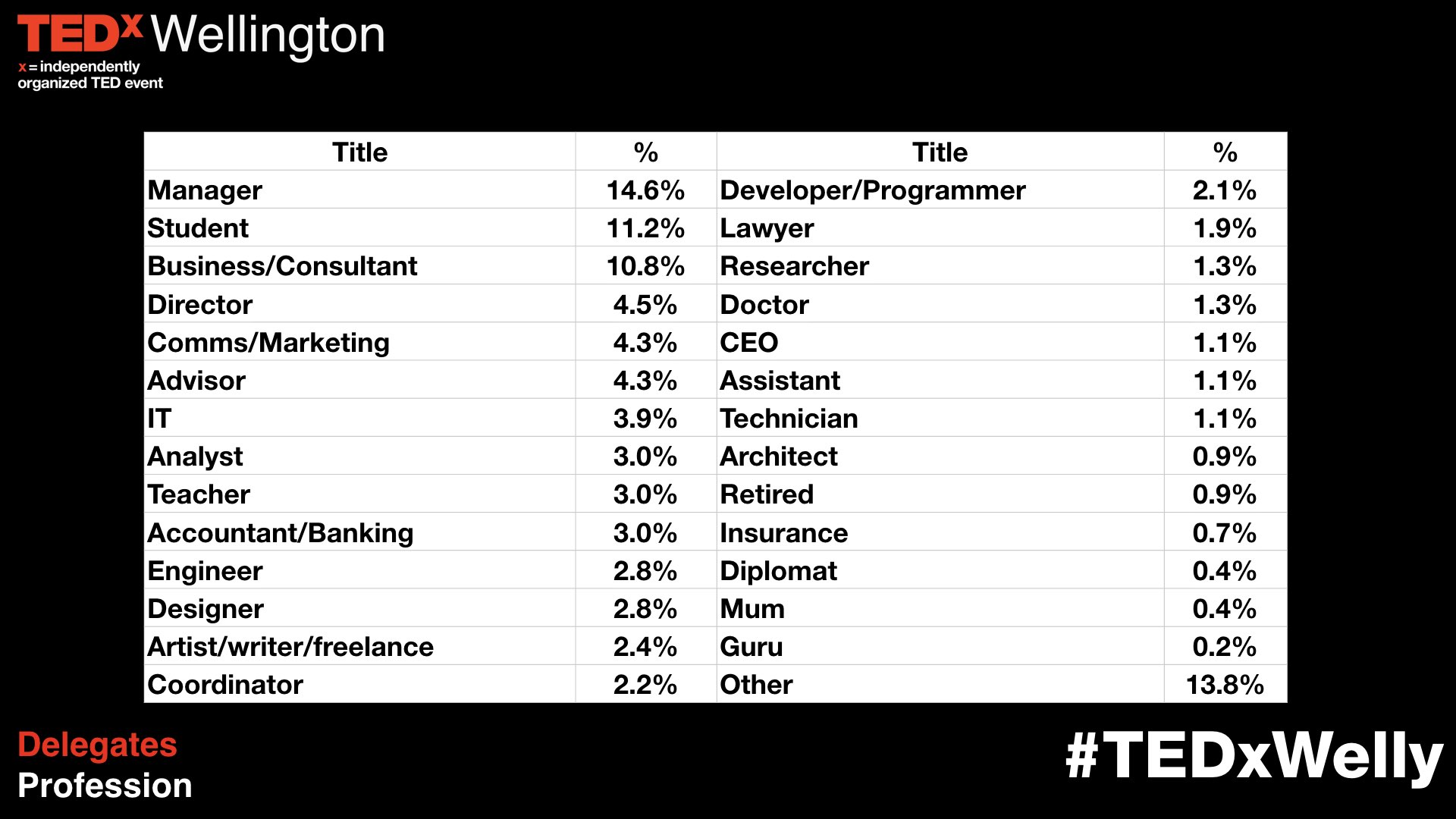 DESIGN COLLATERAL
Again, thanks to our fantastic design partners, Strategy Creative plus Fox & Co, TEDxWellington had an amazing visual language and reinforcement of the event theme, which included: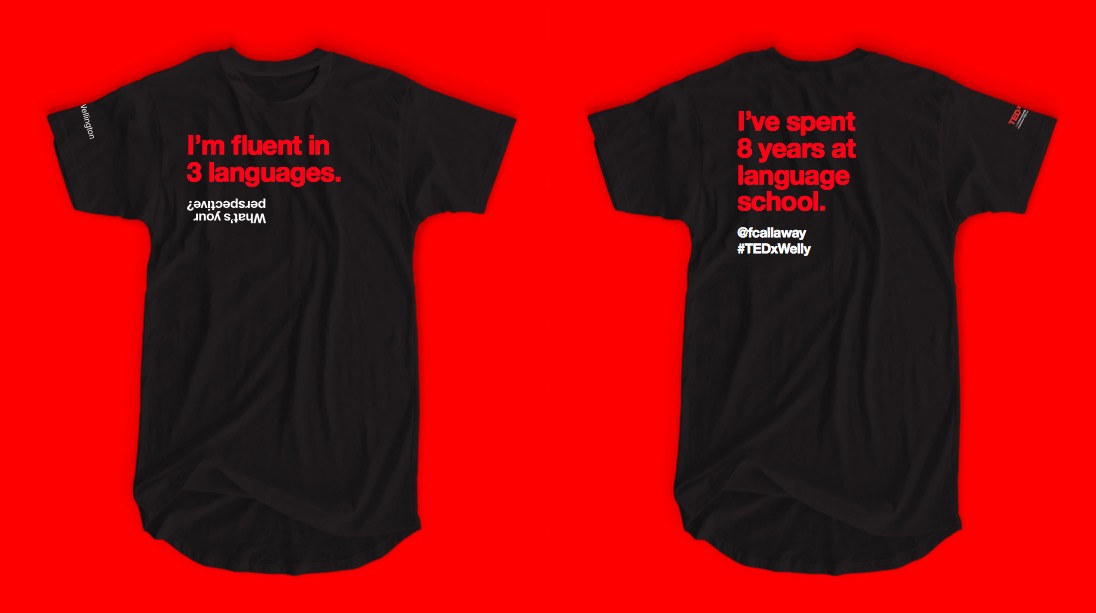 Tshirts: all the organising team and volunteers had personal polarising statements on their tees to encourage conversation.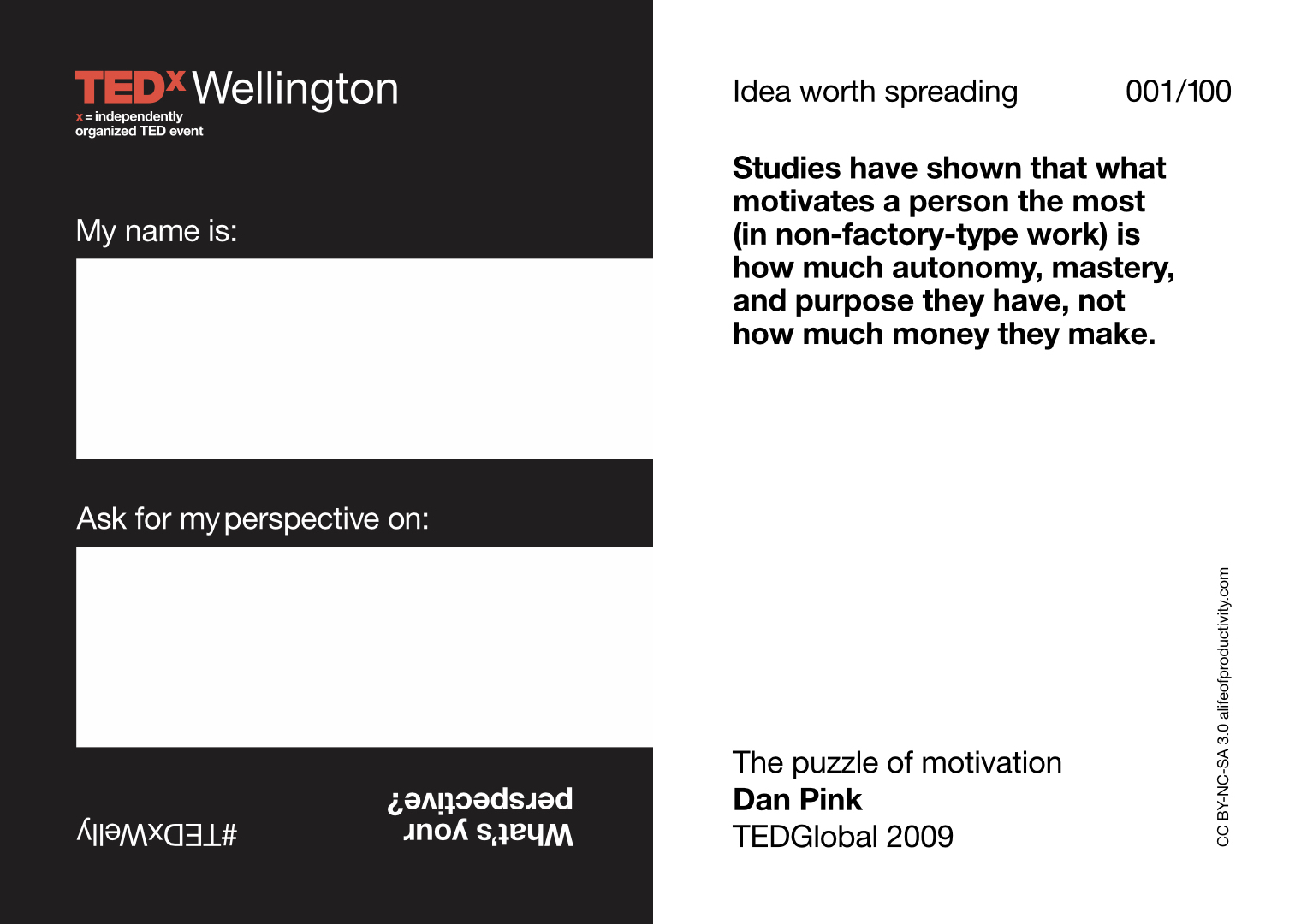 Lanyards: not only space for personal statements to ignite conversations but also one of a hundred provoking conversational starters on the back which prime the audience (taken from this amazing 100 incredible things I learned watching 70 hours of TED talks last week blog post by Chris Bailey).
Screensaver: not only did we have superb visual speaker / performer intros but also this year we introduced the theater 'screensaver' to keep those waiting for the next session entertained whilst again reinforcing the theme (again, utilising the 100 incredible things I learned watching 70 hours of TED talks last week blog post content along with our own speaker / performer photos):
LIVESTREAM VIEWING PARTIES

As with last year, we devoted time and members of the team to reaching out to our wider community and assisting them to host livestream parties on the day of the event.
We matched last years livestream numbers of 5,000 viewers join us virtually on the day.
INTERACTIONS
A massive area for us is the experience. In particular we place equal emphasis on the delegate experience as well as the on stage offerings.
We craft great food and beverage experiences, provide quiet reflection spaces plus opportunities to engage with speakers and discuss ideas with other delegates.
A few of the interactions on offer at this years event were: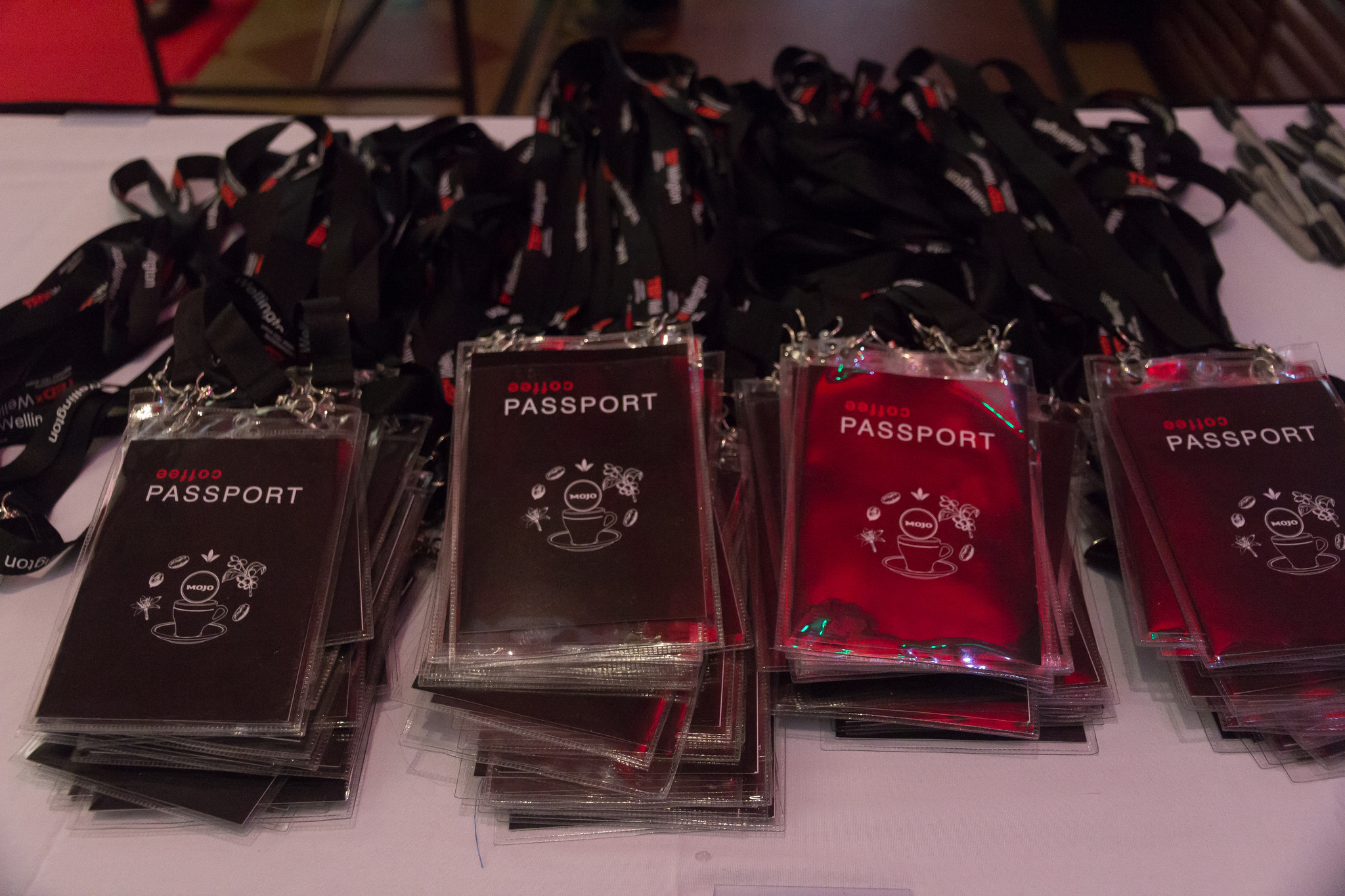 The Mojo Coffee round the world experience was delivered via a 'passport' entitling our delegates to a free espresso (very important for Wellingtonians) as well as access to a whole world of coffee tastings. This was an interaction whereby a vast varieties of global tastes were on offer to excite the palate whilst also provide that coffee energy boost in the breaks. There was also the coffee lager crewed for us via a collaboration with Mojo and Tuatara.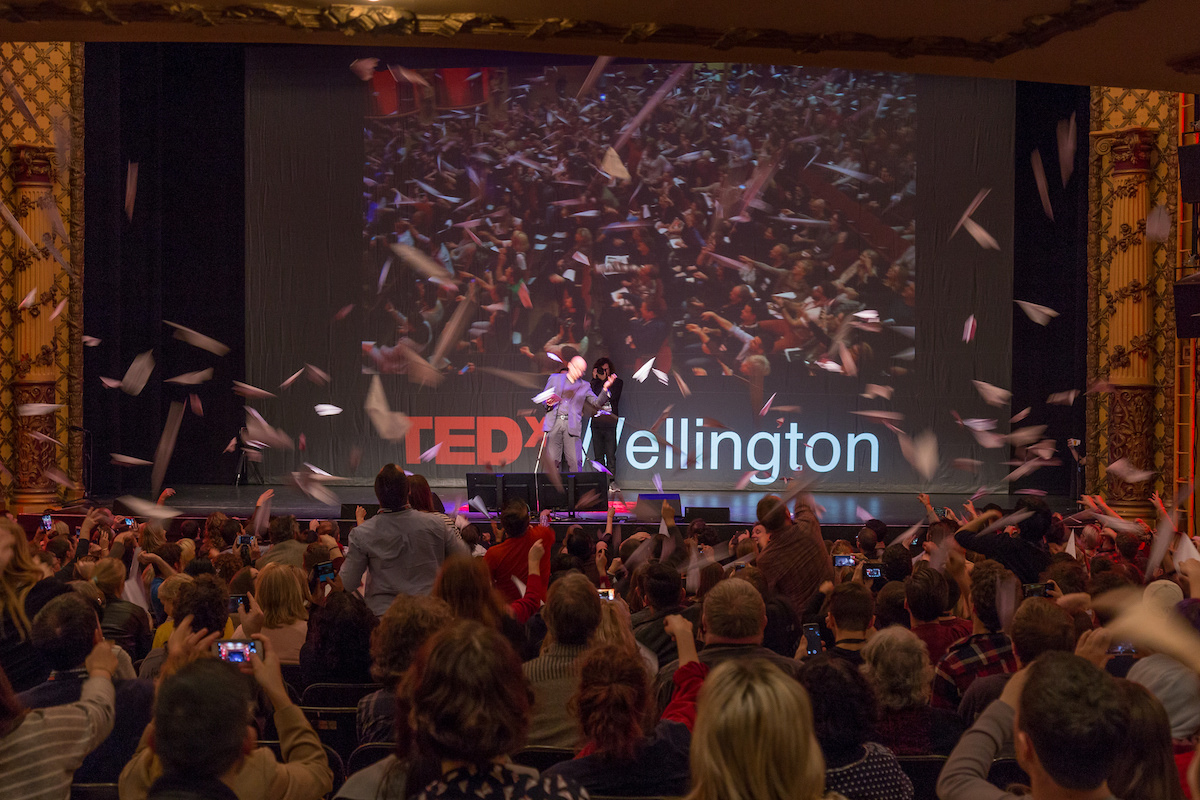 Letting ideas take flight was the result of asking our delegates to write their own idea worth spreading down on a piece of paper, then fold into a paper plane! 5, 4, 3, 2… 1,000 delegates all threw their paper planes at the stage and created a magnificent site plus formed an epic game of dodge'ems for the MC!
The Circle of Speakers enabled everyone to share what they thought of each of the talks. Were they courageous ideas, inspiring, beautiful or shocking. We simply asked the delegates to link a piece of string to a word they felt best described a given talk. Each string was a different colour and represented a different talk. The result, a unique TEDxWellington 2017 piece of artwork.
See all the event photos here.
SPONSORS AND PARTNERS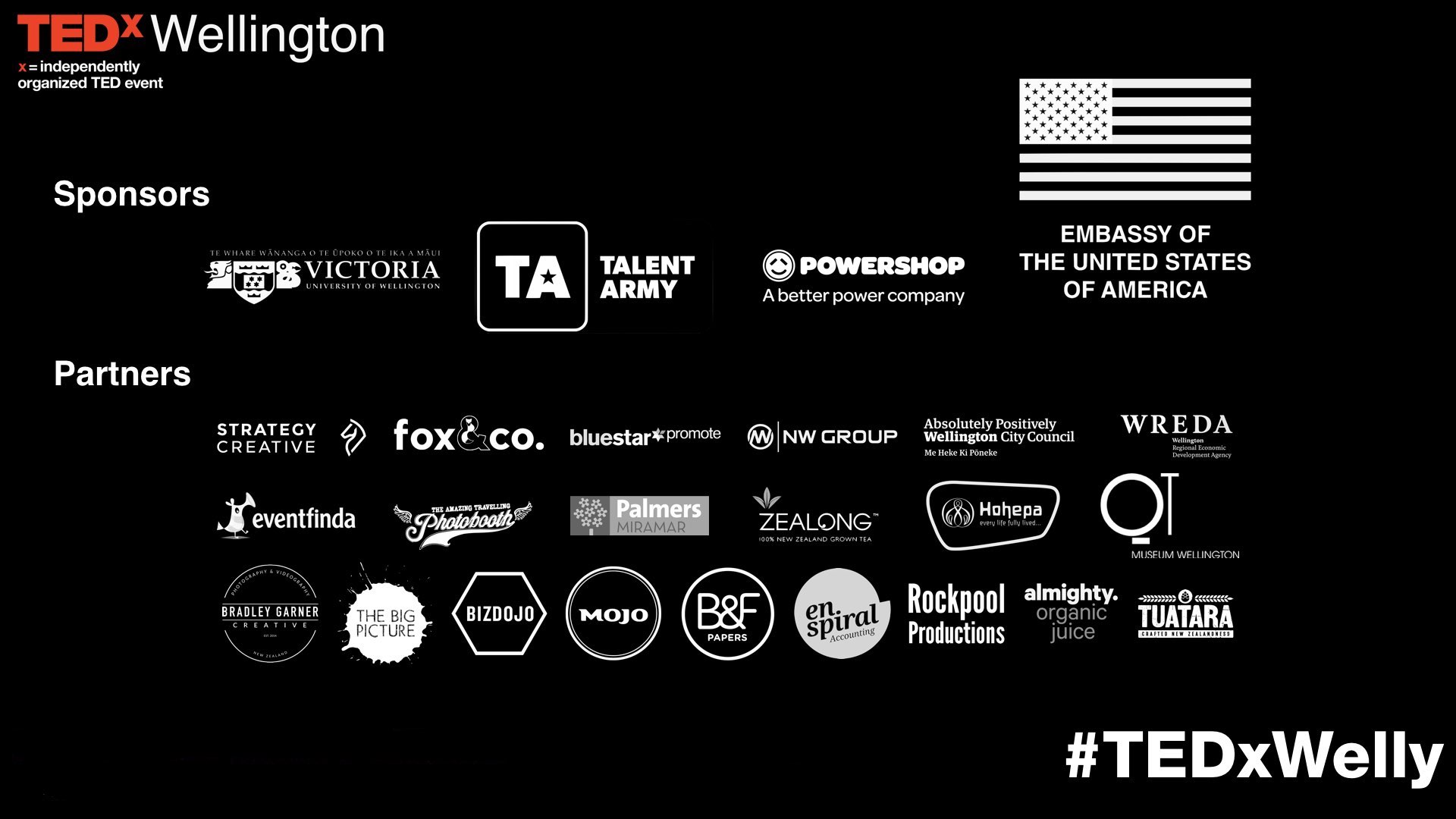 Every year we rely on the goodwill, generosity and collaborative spirit of these good brands / organisations. Thank you for your support on so many levels. The 2017 partners and sponsors rocked!
COVERAGE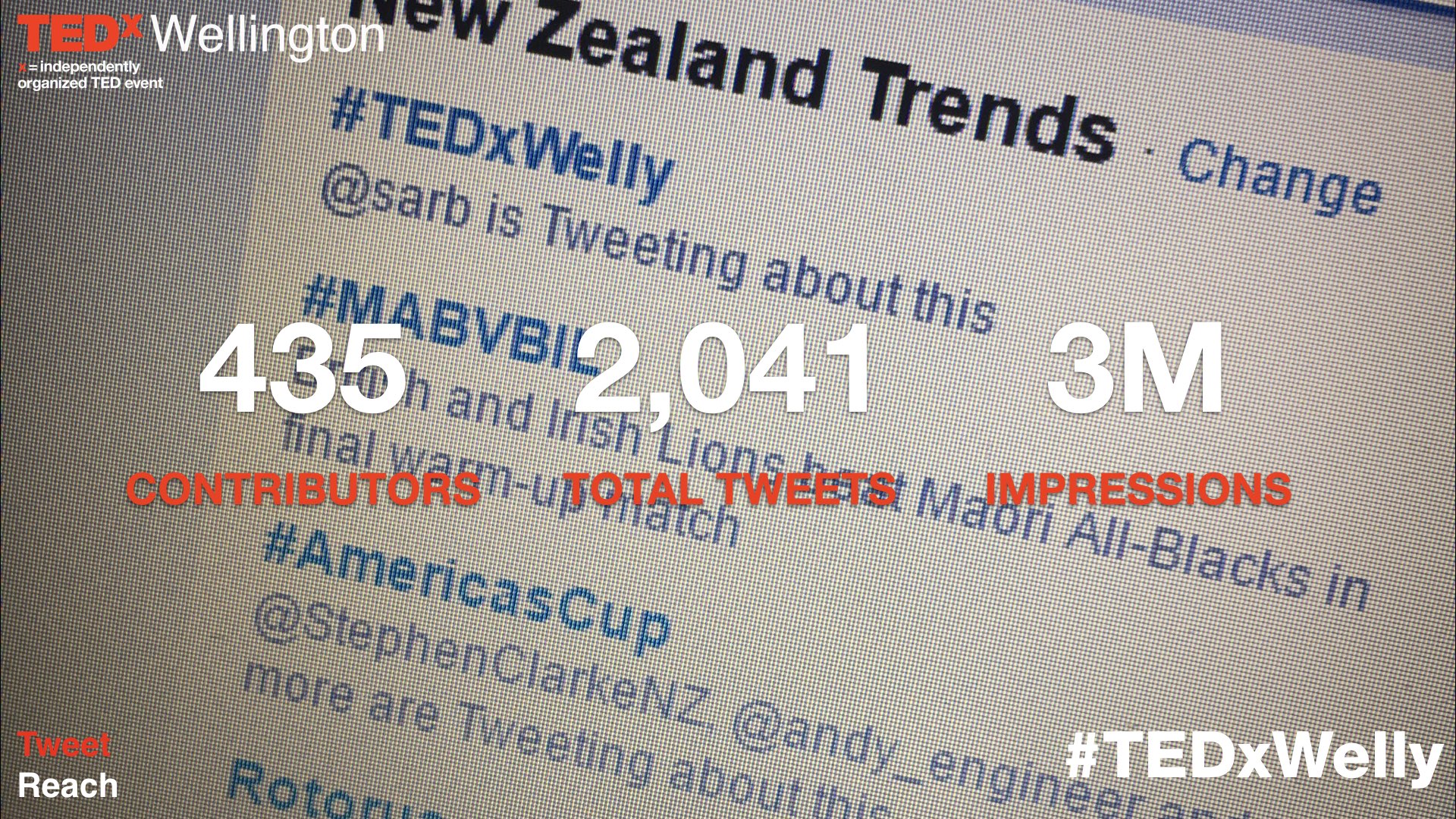 As you can see from above the Twitter coverage was superb, even beating the Americas Cup into second place for the weekend (which is an astounding achievement). During the event day we also served 13 posts on Facebook which got viewed approx 33,000 times.
Another area to really double-down on next year and develop a less broadcast approach and move toward more a conversational strategy.
Here's just some pre/post event coverage as well:
WHAT'S NEXT?
As announced at the end of the TEDxWellington 2017 event, TEDxWellingtonWomen is our next project.
We've just secured the venue and more details will follow soon with a view on bringing this very important topic to our community and the capital as a whole. We have some creative approaches already planned so please make sure you're signed up to the email newsletter to get information that plus ticket sales (see bottom of this page).

We're also triple-honoured to be one of the finalists for the 2017 Wellington Airport Community Awards in the Arts & Culture category. A recognition of all the volunteering effort that goes into the last 5 years of building the TEDx community in the capital.
The ceremony takes place on Thursday 10th of August 2017 so will keep you in the loop on the outcome.
2018
Plans have already started on next years main event.
Now we know we can scale and there's a continued growing hunger to attend crafted experiences in the capital around ideas worth spreading, next year my focus will be on building a team to execute another unique and radical offering.
Taking the TEDx format and having fun stretching it into a new shape.
Be sure to sign up or if you want to get involved just complete this form.