Are you a Wellington business or organisation championing positive impact in our local community? TEDx is coming to the coolest little capital and we are stoked to have you on this journey!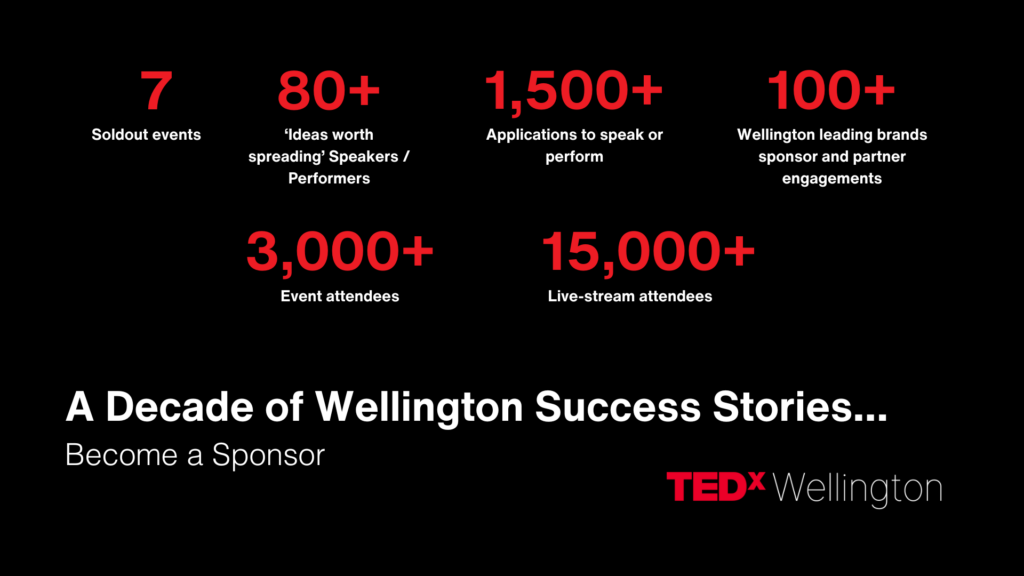 ---
Why become a sponsor?
Support ideas worth spreading
For over a decade, TEDxWellington has been a platform for ideas, innovations and talents to flourish from the capital to the world. By sponsoring TEDxWellington, you align your brand with Kiwi ingenuity, forward-thinking ideas, and nurture curiosity. This year, we're taking it up a notch by combining a classic TEDx experience with our newest Studio Licence – which means all the cool ideas we are spreading will be online, accessible anytime, anywhere.
Sustainable partnerships
Organising a TEDx event is an unpaid full time job, planning and coordinating thousands of person hours – all on a volunteer basis as per the TED rules. To keep us sane and to prevent burnout, we've introduced a hybrid licensee model, whereby the licensee status rotates between the core leadership, with co-organisers ready to take on the mantle when needed. This means, we remain continuous, strong and resilient – long into the future. And it is the same with our sponsors as we'd like to partner with you not just for the next event, but for the next 10 years and beyond!
Accessibility & Te Tiriti Alignment
TEDxWellington is on a bold mission to widen accessibility to our platform. We are breaking down access barriers for Māori, Pasifika, and marginalised communities, fostering meaningful connections with a diverse audience. We are dedicated to co-creating an exceptional TEDxWellington with our entire community, embracing flexibility and agility to drive positive change within our vibrant city and beyond.
---
How you can support TEDxWellington.
Become an event Sponsor $15K – $50K
This is for our main red-dot event in 2024! A highly-anticipated social occasion that brings together a diverse group of thinkers, doers and community members. Your funding will cover venue costs, AV, catering, interaction design, general event logistics and of course the production costs of producing TEDx videos.
Sponsor an idea $10K
Keen to support an idea? With this sponsorship, you have the unique opportunity to directly support the promotion of specific transformative ideas that are in alignment with your brand. Your funding enables us to recruit, coach, produce and promote TEDxWellington Studio Talks that will be available online on our official digital channels.
Sponsor a Space (depends on your budget)
Create your own space! Whether you're offering a venue for the main event, a location for smaller gatherings such as meetups, or a unique backdrop/recording space for our Studio Talks, your contribution helps shape the TEDxWellington experience.
Interaction Sponsor (depends on your budget)
Over the years we have discovered amazing opportunities to co-develop interactive experiences with our audiences, often working in partnership with strong local brands. It is a chance to connect with the audience in a more meaningful and memorable way.
For all sponsorships – get free tickets, branding, social shoutouts, priority RSVP to meet-ups, and heaps more perks!
---
Non-Cash Support
We appreciate that support comes in diverse forms, and we welcome non-cash contributions that can enhance the TEDxWellington experience. You can support us with catering, drinks, printing, design, advertising, tech, transport, video production, etc.
Bespoke packages
Bespoke sponsorship packages can be considered and designed on a case by case basis, for smaller, or larger budgets as organisations can manage.
TEDxWelington has been through a lot.
COVID, hybrid formats, changes in leadership – and yet we're here stronger than ever.
With your continued support, we are excited to go on this journey, creating an extraordinary TEDxWellington experience.
Join us for an epic TEDxWellington this year!