TEDxWelly Meetups are causal meetups for us to engage with eachother and talk all things TEDxWelly.
So, save the date for Aug 18!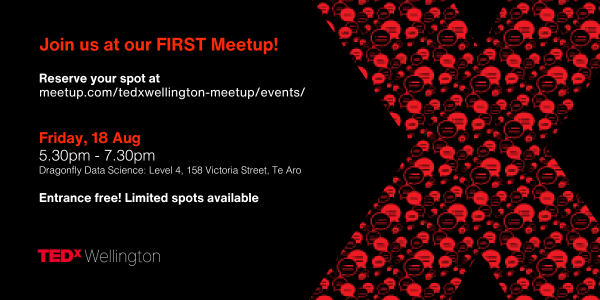 When: Friday, 18 Aug, 5:30pm – 7:30pm
Where: Dragonfly Data Science: Level 4, 158 Victoria Street, Te Aro
Tickets: It's Free! (only 50 spots available)
---
What can you expect?
Say hello to the team!
Our TEDxWellington Licencee, Alex Matthews, along with Tania Marie Smith, Ciaran Jack, and others from the organising committee are excited to meet everyone and have a yarn!
It's a real cool opportunity for all of us to get together as we head on to this new chapter of TEDxWellington.
Introducing TEDxWellington Studio
We're super stoked to talk about our mint TEDxWellington Studio licence! It's a Welly-first and something we're really proud of to introduce – working towards our kaupapa of making ideas worth spreading more accessible. We'll share our plans for TEDxWellington Studio, how we will go on about production, and how you can apply to be a speaker/performer. If you're thinking of becoming our very first Studio Talk, we'd love to hear from you! Apply Now.
For more information on the format of TEDxStudio, take a look here.
Vision for the Main Event
We will have our main event in 2024! As we nut out the specifics, we can't wait to share what we envision for the big red-dot event. Our vision for this signature occasion is to captivate, inspire, and celebrate Kiwi ingenuity, and we're really excited to share what we're planning.
Meet other TEDxWellingtonians!
We're all about sharing ideas, and TEDxWellington won't exist if not for awesome people like you who are passionate about making a positive impact in our community. Meet others who share the same passion, network, and make friends!
Save the date folks! We're thrilled to be meeting everyone in our first Meetup and go on this journey together with you.
Stay updated with the latest – subscribe to our newsletter.