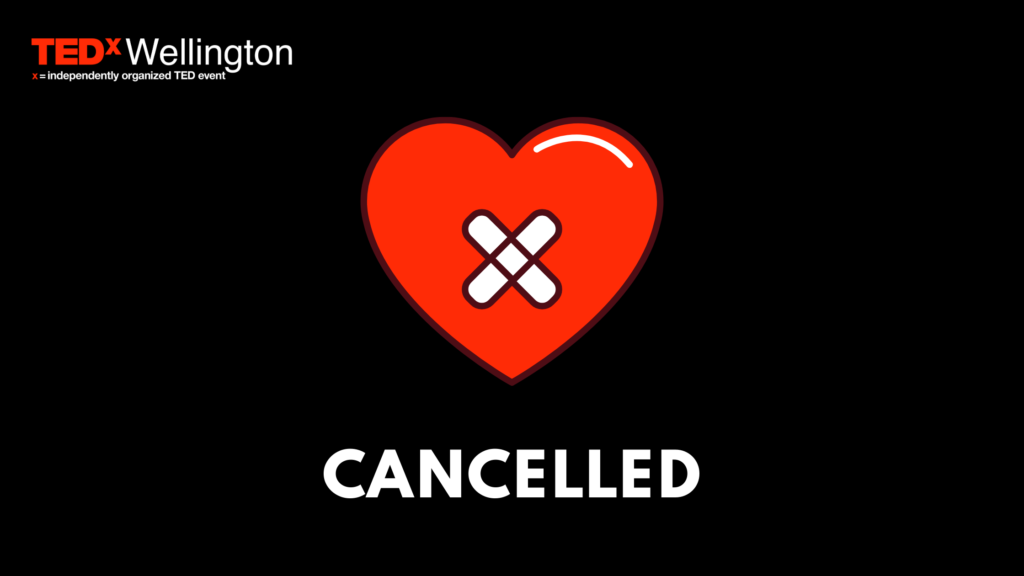 Not the big announcement we had hoped for.
Due to the recurring incidences of rapidly changing COVID-19 levels, careful consideration for the safety of our community, plus the increase in liability and sudden cancellation risk, the team and Board of Trustees have made the enormously difficult decision to cancel the May 8th TEDxWellington 2021 event at the Michael Fowler Center.
This was certainly no easy decision and was a result of a series of long, challenging conversations between the team and Board of Trustees, who went through every rational alternative fathomable in an elimination process that left us with only one responsible outcome. It is truly a decision of the last resort, and one we're pained to make.
We've always known that COVID-19 presents a risk to in-person events, however, inspired by New Zealand's early success in managing the virus, we had hope.
For what should have been the largest TEDxWellington to date with 2000 people in attendance, we wouldn't have had the opportunity to come this far if it wasn't for our wonderful sponsors and partners. Their contributions, in terms of resources and consultation, were instrumental in us getting this far.
TEDxWellington is a wholly volunteer-organized event, and for all of us on the team, it's also a passion project – we acknowledge and celebrate all those who have been involved.
Could TEDxWellington go virtual?
Yes, although a different TEDx license is needed. Partner and sponsor agreements would also have to be renegotiated or new ones established, plus the financial model would have to change radically. Speaker coaching and the presentation experience would be very different. The TEDxWellington volunteer leadership team signed up to deliver the best event possible. Pivoting to a virtual contingency at such short notice would simply not have done our attendees, speakers or organisers justice – nor was it achievable at such short notice.
Why now?
It takes 6 months of strategy and planning to be in a position to announce an event of this scale – and another 3 months to deliver. When the 2021 team first started this journey, New Zealand had a sustained period of virus elimination, however the recent outbreaks demanded immediate reevaluation, with the best interest of all as a point of focus. The health and safety of the community must come first, and along with the financial liability relating to all the contracts of such a massive event (venue, catering, audio / visual etc), it was a commitment too big to risk as a tiny charitable trust.
We've seen many other events impacted by these COVID-19 announcements, from delays through to full cancellations in the 11th hour. This news may be disappointing now, but would have been heartbreaking for all involved, days or hours before the event should another sudden lockdown or alert level change occur.
Words cannot express the disappointment of the TEDxWellington team, which we know is matched by our community, speakers, sponsors, partners and stakeholders. There is of course a very real chance that by May 8, Wellington could be at level 1 – but given recent events it simply is not responsible for us to risk proceeding.
What's next?
We recover.
We recover from our shared disappointment like we make every effort to recover from recent outbreaks to ensure elimination is again our reality. Of course, things do not end here – we're focused on the future but to be clear, we've not made any decisions at this time.
We are utterly grateful for all those who have been on this long journey with us. We felt the love, the passion and the excitement, every step of the way.
We apologize for the inconvenience and distress this news may cause. It certainly hasn't been easy for us either. Regardless of the 'Should'ves' and 'Could'ves', we are hopeful of a better story in the future.
We stand committed to "Ideas worth spreading" plus the safety of our community. Here's to once again eliminating COVID-19 from New Zealand.
Kia kaha, everyone.