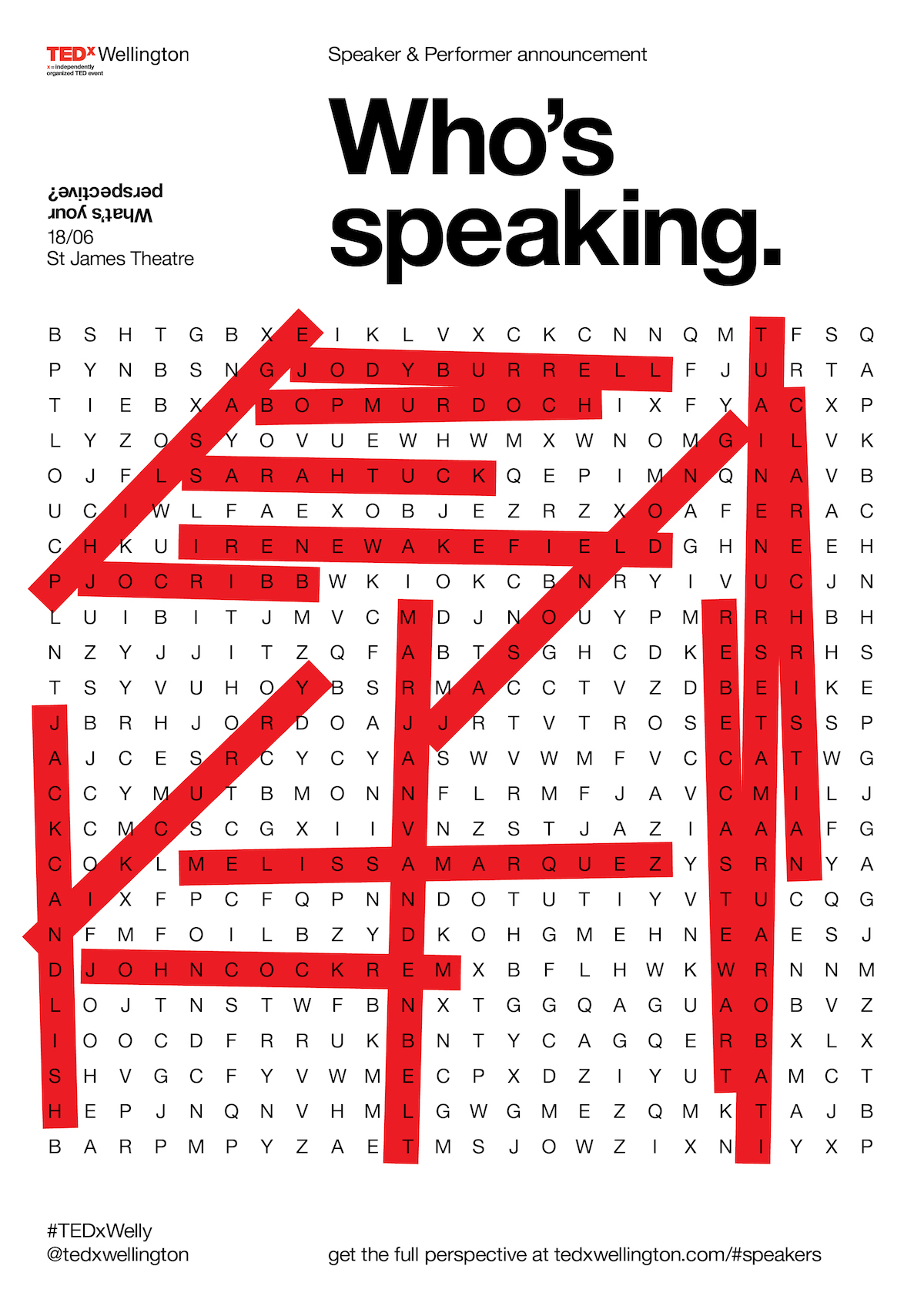 We're so excited to announce the speakers/performers who will be centre stage at this year's TEDxWellington!
Our incredible 15-strong line-up will delight you with an exciting range of topics covering everything from toy designing to surfboard shaping, musical robots to little penguins and tree nuts to sharks.
All but two are based in the Wellington region. This year's international speaker – Phil Sage – will travel from the USA to join us on the day.
We can't wait for you to meet them!
Our 15 speakers/performers are:
Bop Murdoch, Sarah Tuck and Jody Burrell: launched CoLiberate, with a mission to shift the perception of mental health and enable emotional wellbeing in the workplace.
Clare Christian: project manager of The Canarium Nut Company Ltd, an initiative exploring the commercialisation of a tree nut that grows throughout Melanesia.
Irene Wakefield: founder of Prepair NZ which has a vision to empower and inspire young women across the country.
Jack Candlish: Organic Dynamic produces surfboards from locally recycled and renewable materials that compliment the natural integrity of the sport and contribute to the protection of the marine environment.
Jason Long: a composer, sound artist and researcher, currently undertaking a PhD in Sonic Engineering at Victoria University of Wellington, focusing on musical robotics.
Jo Cribb: has worked with some of New Zealand's toughest problems including child poverty, violence against women and child abuse.
John Cockrem: Professor of Comparative Endocrinology at Massey University, developing methods to bring back kororā (little penguin) to coastal communities.
Marjan van den Belt: Assistant Vice-Chancellor (Sustainability) at Victoria University of Wellington, facilitating a transition towards a more sustainable future. She is also the former director and principal ecological economist of Ecological Economics Research New Zealand.
Melissa Cristina Marquez: founder of The Fins United Initiative, a program that brings attention to the unusual and diverse sharks (and their relatives) of the world and the threats they face
Nik Curry: a posture and movement specialist who has developed Postural Patterning, an alternate approach to body wellness that is educational, not treatment based.
Phil Sage: a toy designer and technologist at Hasbro, discovering and innovating the world's best play experiences.
Rebecca Stewart: co-founder and general manager of Pomegranate Kitchen, a social enterprise which trains and employs cooks from a refugee background.
Tuaine-Nurse Tamarua Robati: artistic director and tour director of the Bachelor of Applied Arts programme at Whitireia Community Polytechnic.
Read more about our speakers/performers.
---
Not got your ticket yet? There's still a few spots left in the Pay It Forward registration category.
For $175, you'll receive one place for yourself, while gifting a seat to one of our fantastic chosen charities (Change Makers, Dress for Success, Kava Club, Seniornet and Young Enterprise Scheme) who will pass it on to a deserving member of their targeted community. Go, go, go!