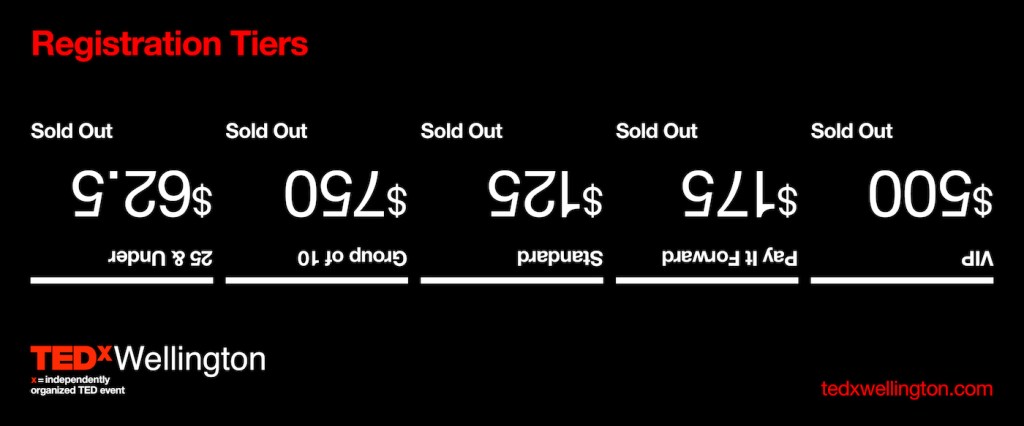 We're six weeks out so it's time to reveal (at last, some might say…) our registration categories and prices for TEDxWellington 2017.
We told you we'd be doing things differently this year… so here's all the info you need:
half-price discount for 25s-and-under (you'll need to bring ID on the day): $62.50
group discounts (when registering for a total of 10 seats): $750 (that's only $75 per seat)
standard registrations: $125
VIP packages: $500 (which include an exclusive one-night stay in a QT Museum Wellington suite for two people, two VIP seats at the conference, and entry to the TEDxWellington after-party with our speakers / partners / organisational team)
And lucky last, and possibly our most exciting option, is our 'pay it forward' registration category.
"What's that?", we hear you ask… it's your way to give back to local charities, while grabbing a seat for yourself too.
For $175, you'll receive one place for yourself, while gifting a seat to one of our chosen charities who will pass it on to a deserving member of their targeted community. Get your TEDxWellington fix and feel the warm fuzzies, all in one go.
Our chosen charities are:


Remember, registrations go on sale Wednesday 10 May at 12 noon via Eventfinda.
We sold out in two minutes last year, so start practicing refreshing your browser now!
Got a friend (or ten so you can get the group discount!) who should be at TEDxWellington too? Now's the time to get them to sign up to the email newsletter at the bottom of this page (as subscribers get notified first)!