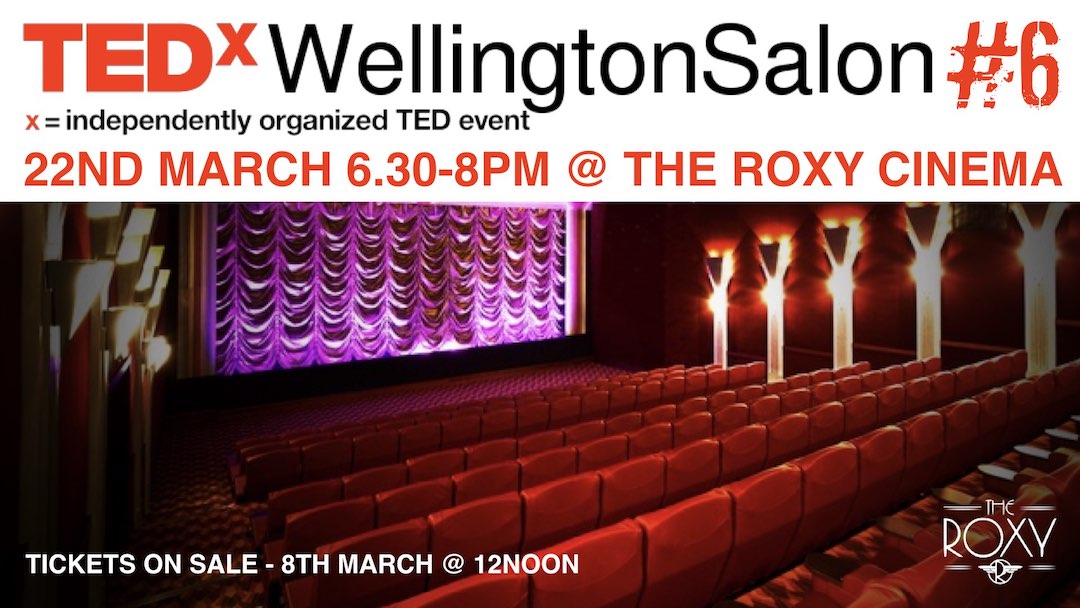 Be ready at 12pm tomorrow!
It's only a couple of weeks before TEDxWellingtonSalon #6 at The Roxy Cinema – and have we got a surprise for you.
To find out what it is, you'll need a ticket which goes on sale tomorrow at 12. You'll need to be ready – our last Salon sold out in 20 minutes.
This is a Salon not to be missed. We'll hear from some of our previous speakers: Dr Shaun Holt who spread the word about the medical uses of honey at TEDxWellington in 2016, Dylan Coburn who spoke at the 2014 event about using creativity to answer the question "how was your day today?", and Fiona King who discussed the natural undertaking of funerals in 2016.
Salon #6 marks the closing date for speaker/performer applications for our main event in June. We'll also be announcing the TEDxWellington 2017 conference theme (it's a goodie). Plus, there's that super-secret special surprise we mentioned… *Mysterious face*
A big shout out to our amazing hosts, The Roxy Cinema, who, like us, can't wait for 22 March! Erica Brooks, Head of Brand and Marketing, says:
The Roxy and TEDxWellington share a common ethos when it comes to nurturing creativity and providing our local community with access to ideas worth spreading – we do it through the medium of film, while TEDxWellington utilises the enormous talent residing in our city, along with global guests. It's a perfect partnership, and we're very proud to be hosting the next TEDxWellingtonSalon. As big supporters of Wellington's creative community, it's our pleasure to welcome the TEDx community of creative minds!
This will be the last chance to attend a salon before our 2017 TEDxWellington event on Sunday 18 June 2017 at St James Theatre. So get ready to get your ticket on Wednesday. We can't wait to see you!
And don't forget – follow us on Twitter,Facebook or sign up for emails on the website for news about tickets and other updates.