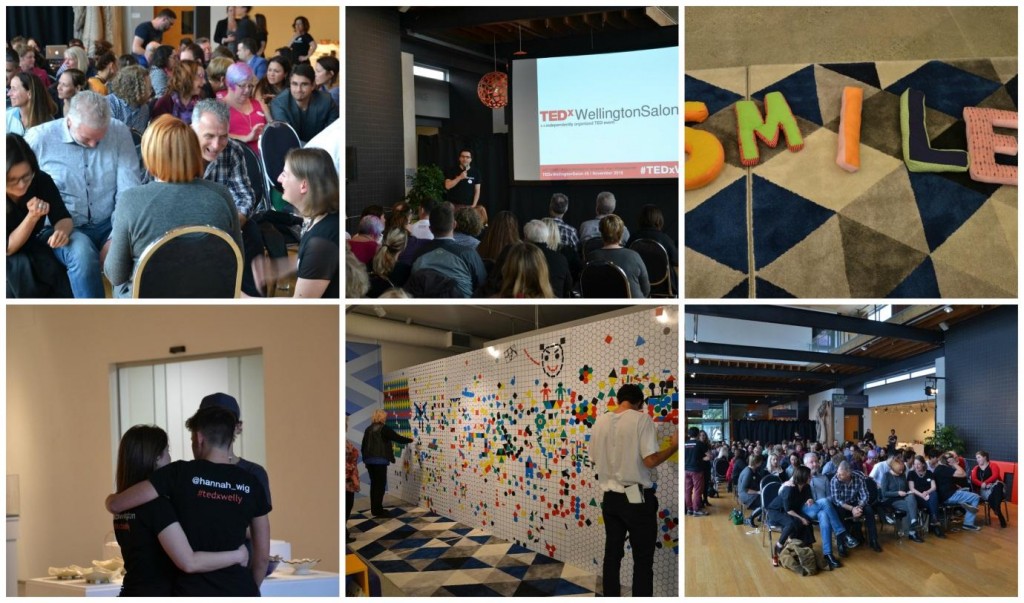 Thank you to everyone who made it to last weeks TEDxWellingtonSalon in Porirua's "cultural heart" Pātaka Art + Museum.
Salon events are a great opportunity to meet other members of the community, watch TED talks from around the world and engage in conversation.
Inspired by the beautiful venue Pātaka, who opened up their exhibition space for us, and the revitalisation work that has been going on in Porirua, we watched Theaster Gates' talk "How to revive a neighbourhood with imagination, beauty and art":
With the second, more light-hearted video of the night, lexicographer Erin McKean encouraged us to "go ahead and make up new words." We loved your creations such as Diabesity and Trumpton!
After watching the second talk the audience got creative.
Here's a selection of words they came up with:
Delorgeous = delicious and gorgeous
Perfecuted = perfectly executed
Wuggle = wug and cuddle
Spamager = a manager that spams you
Meowp = opposing of something
We were also very excited to hear what's new with some of our alumni speakers from previous TEDxWellington events.
Flight Coffee's founder Nick Clark, who had introduced us to specialty coffee in 2013, gave an update on what's new in the world of ethical bean sourcing and how Flight Coffee is making a positive contribution. They have bought their own farm in Colombia paying their workers 2.5 times the market rate and founded Raw material which focusses on specialty green coffee sourced from around the world.
A lot has happened since Dan Khan gave a talk about Wellington's first start up incubator Lightning Lab in 2012. He realised that he didn't care as much about the companies in the 3-month accelerator programme but more about the people and how to grow them sustainably from day one. So he founded ZeroPoint Ventures who help early-stage NZ companies reach their first meaningful revenue milestone within 2 years.
Nic & Marie from Good Bitches Baking had told us earlier this year about how they got drunk and decided to save the world with cake. Those ladies haven't stopped since! After their talk in March they have ramped up visibility and fundraising and ran a successful Wellington on a plate event. Now they are bringing out their own cookbook Bloody Good Baking with a mix of recipes from their bitches as well as professional chefs.
A big thank you to Porirua City Council who enabled us to take a TEDxWellingtonSalon beyond the city limits for the first time, and to our other sponsors Flight Coffee.
Check out all photos of the event.
If you missed out on tickets this time but would love to attend a TEDxWellingtonSalon or the main TEDxWellington event in the future make sure to sign up to our Email list, like us on Facebook and follow us on Twitter!