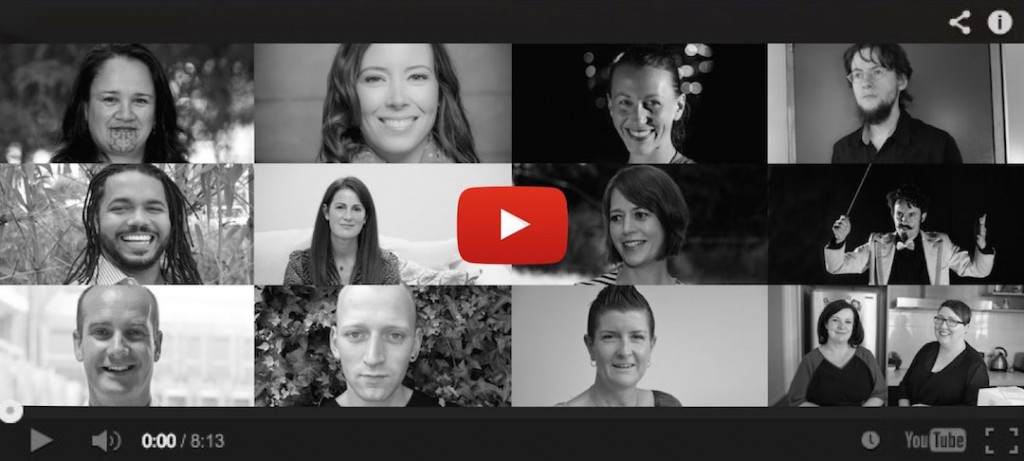 Devour and send on.
With this year's TEDxWellington theme being "trust", organisers kept key details secret until the day, such as the venue location, speaker line-up and programme—an approach has never before been done before at a TEDx event anywhere in the world (watch the short documentary and read the event review).
And now the talks (in order of appearance at the event):
A Million Conversations In Te Reo Māori | Glenis Hiria Philip-Barbara
Glenis is a public servant based in Wellington who belongs to the Tairāwhiti region where generations of her family have lived since Maui fished up the North Island. As the former Chief Executive of the Māori Language Commission her passion for social justice and the revitalisation of indigenous language and culture remain key drivers in her life and work.
The Prefab Housing Puzzle | Pamela Bell
Pamela Bell is CEO of PrefabNZ, the hub for prebuilt construction – informing, educating and advocating for an innovative built environment. PrefabNZ hosts the annual CoLab event. Pamela has experience in architecture, Olympic-level sport, business development, governance, book writing and exhibitions, and general management (two small children!).
http://prefabnz.com / http://twitter.com/prefab_pam
Need To Dance | Sacha Copland
Sacha Copland is the founding artistic director of Java Dance Theatre. Since 2003 Sacha has developed Java's distinctly sensory theatrical style, choreographing and producing more than 15 full length dance theatre works and commissions, garnering critical acclaim, box office success and international tours. In 2012 Sacha received a Distinguished Graduate award from the NZ School of Dance.
http://javadancecompany.co.nz / http://twitter.com/JavaDanceCo
Sequencing That Stimulates The Sensors | David Andrew Eccles
David Eccles is a computer whisperer (bioinformatician), working for the Malaghan Institute of Medical Research and other clients around the world. David is an advocate for Free and Open Source Software, with the majority of his work done using a Linux system. His days are spent teaching computers to understand scientists, helping to make scientific research faster, cheaper, and better.
The Possibilities Of Uncommonalities | Charles Babb
Charles is an entertainment industry production professional that loves all things technology. He has worked across a number of entertainment industries including music, comics (manga), television, film, and games. Charles has shipped game titles published by Warner Bros., Activision, Sony PlayStation, and Koei Tecmo. He's a futurist working on a few Augmented, Virtual, and Mixed Reality projects.
http://charlesversus.com / http://twitter.com/charlesbabb
A Natural Undertaking | Fiona King
Born in Christchurch but raised in Wellington, Fiona left New Zealand for an extended 14 year OE living in England and France. An eclectic background in the design and restaurant industries, the zoo and museum sectors. She established Broadbent & May funeral company four years ago believing that funerals should not be a spectator event and encourages full family participation.
The Dangerous Myth About Libraries | Laurinda Thomas
Laurinda is an advocate for libraries as a human right that enable everyone to participate fully in society. She is a former President of the Library and Information Association of New Zealand Aotearoa (LIANZA), and a Director on the Aurora Foundation's Leadership Institute for Information Professionals. You'll find her collecting, and happily busting myths about libraries.
http://twitter.com/laurindathomas
How I Gain The Trust Of Strangers | Michael Armstrong
Michael Armstrong is a man of surprising talents. Originally from Christchurch where he studied both Law and Circus, he now resides in Wellington.
He spreads the joy of circus through both teaching and performing under his alias Mr Wizowski.
Spreading The Cure | Dr. Shaun Holt
Shaun holds Pharmacy and Medicine degrees and is an Adjunct Professor at Victoria University of Wellington. He is the author of 8 books and 180 scientific publications and has been a regular contributor on TV1's Breakfast programme and national radio shows. In 2015 he was a finalist in the New Zealander of the Year Awards in the Innovator category.
http://shaunholt.flavors.me / http://twitter.com/drshaunholt
Begin To Obsolesce | Asher
Skymning is a Wellington based composer and producer, who creates contemporary electronic music with obsolete live instruments. Using his guitar, sampler, keyboards & cassettes, Skymning produces melancholic, environmental soundscapes, the aural equivalent of impressionist paintings. With his new material Skymning adds the use of a drum sequencer, pushing his sound further towards a more energetic, dance music sound.
Hearing The Voices Of Our children | Deborah Morris-Travers
Deborah is National Advocacy Manager at UNICEF NZ. For 12 years now she has been advocating for improvements in the wellbeing of children. She is passionate about the place of children in our society and how we build communities that enable all children to thrive. She is a mother of two and a committed fan of New Zealand music.
http://fairfuture.nz / http://twitter.com/DeborahMTNZ
Changing The World With Cake | Good Bitches Baking
Marie Fitzpatrick and Nic Murray believe that kindness is cool and could save us all. So they got drunk and accidentally started a charity.
http://goodbitchesbaking.co.nz / http://twitter.com/goodbitchesbake
---
The TEDxWellinton are already working hard on securing a venue for next years event to continue to craft unique and exciting TEDx experiences for the capital. Please stay in touch with our developments by signing up to the email newsletter via the front page and / or follow TEDxWellington on Twitter / Facebook for news and other updates.