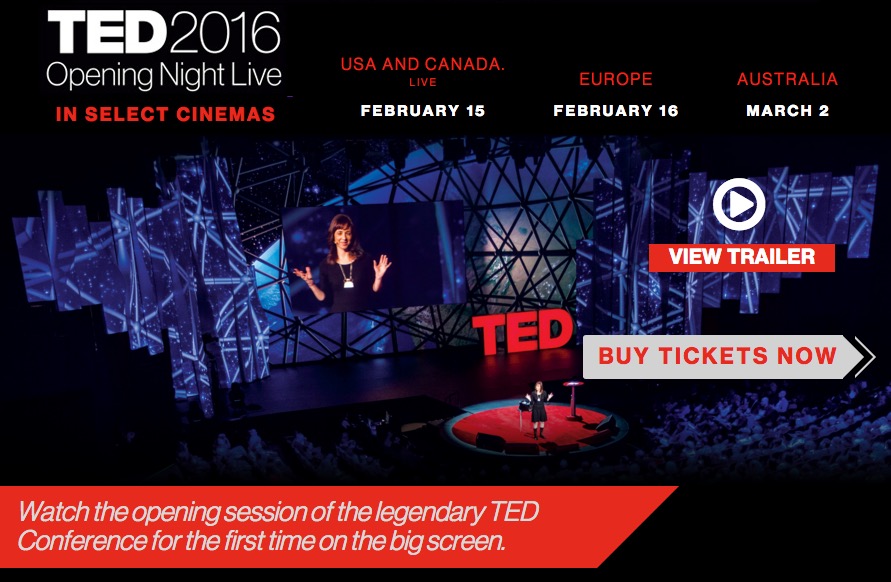 More TED experiences.
We're excited to see that Wellington is being treated to more great TED-related experiences, with a few cinemas around the Wellington region screening of the Opening Night of TED'16, a couple of days after our TEDxWellington event.
The screenings offer 90minutes of the best bits of this years TED conference, taking place in Vancouver, Canada on February 15-22. It's essentially the opening night condensed into one tasty film morsel.
Just for clarification, the TED organisation runs a main event every year, however, groups of volunteers across the world work hard to organise unique TEDx events in their cities. Like here in Wellington and other places across New Zealand.
TEDxWellington is a full-day live event, with inspiring live talks from incredible locals and unique interactive experiences held on 5th of March—the Opening Night of TED'16 is a film of the another event organised separately and not by or affiliated to TEDxWellington.
You can view the film at these local cinemas from the 7th March onwards:
It's looking like March is going to be an inspirational TED month and a way to keep experiencing 'ideas worth spreading.'